Virtual Staging Before and After Shots You Have to See to Believe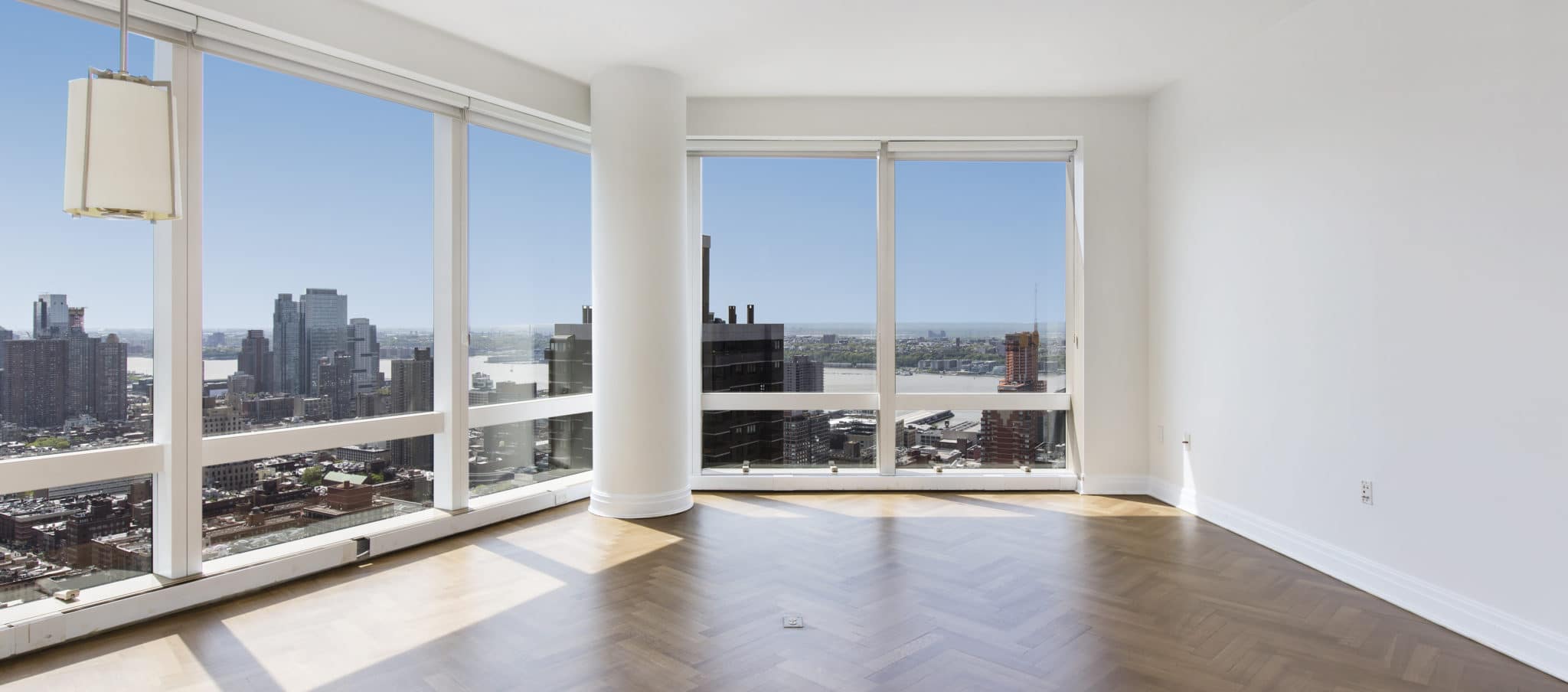 If you're on the fence about whether you should consult a home staging company or try virtual staging, prepare to be amazed at the power of technology. Virtual staging is taking buying and selling property to a whole new level. Sellers no longer have to worry about selling an empty home or bringing in furniture to set the mood due to the advancements in home staging techniques. In the blog, we'll showcase virtual staging before and after photos that will demonstrate the power of virtual staging.
Why Virtual Staging?
According to Redin, 35% of homebuyers make an offer on a home without seeing it in person. They use the online listing photos to decide if this is the house for them. This means that if your online listing features an empty house, homebuyers may be passing on your home because they can't visualize the space with furniture or see it with welcoming, homey touches.
With virtual staging though, you can easily showcase all that your home has to offer by strategically placing furniture through digital photography.
Not sure this can work? Below we're sharing virtual staging before and after photos of how virtual staging can make your home look modern, spacious, and welcoming.
Virtual Staging Before and After Shots
Living Rooms
Your living room is easily one of the most important rooms in your home. It's where you spend time with family, hold a movie night, and entertain friends throughout the holidays. Staging this room ensures prospective homebuyers can see all those things are possible. Here are a few of our favorite virtually staged living rooms: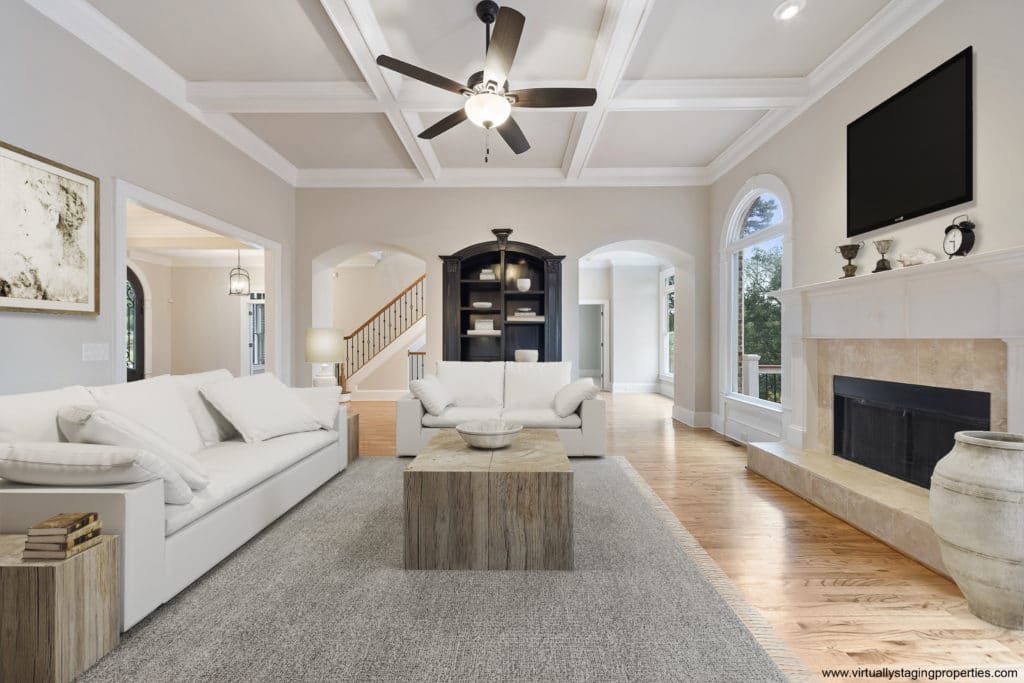 This living room is spacious, offering a gorgeous coffered ceiling, beautiful archways, and floor-to-ceiling- windows. To allow buyers to take this all in, we used neutral furniture and modern accents. This helps keep the focus on the amazing architecture, while also allowing them to picture their own furniture in the room too.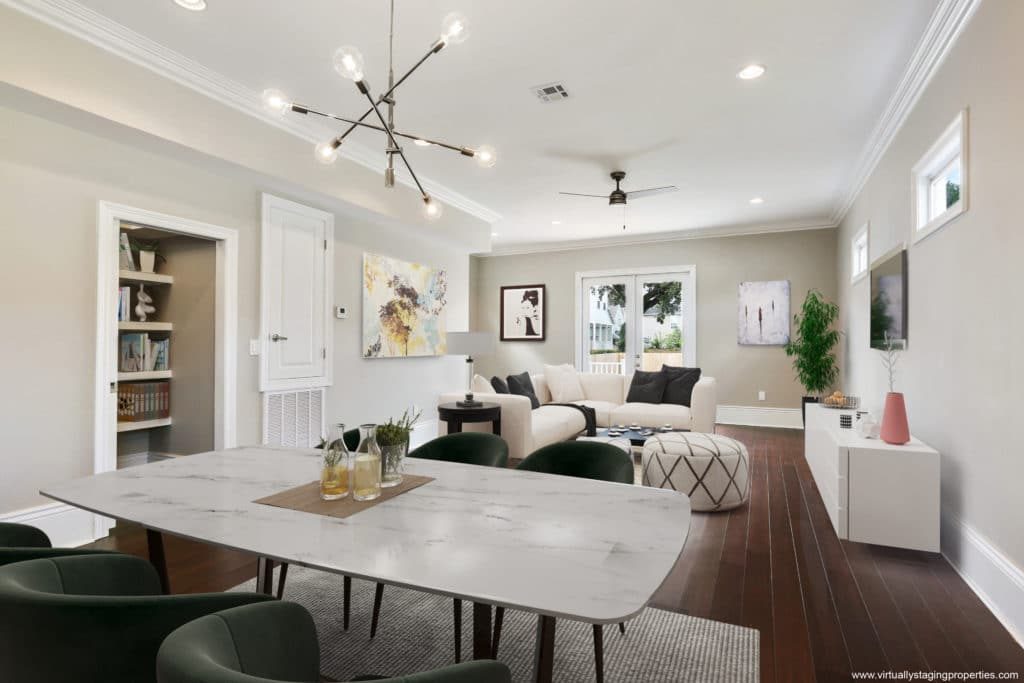 With small spaces, you want to avoid staging furniture that will make the room appear/feel even smaller than it really is. To showcase the open layout of this living room (and show how you can still entertain), we used modern furniture and pieces that can double as seating or decor. The dining table is sleek, with the emphasis on the chairs and the ability to pull them around to the living room.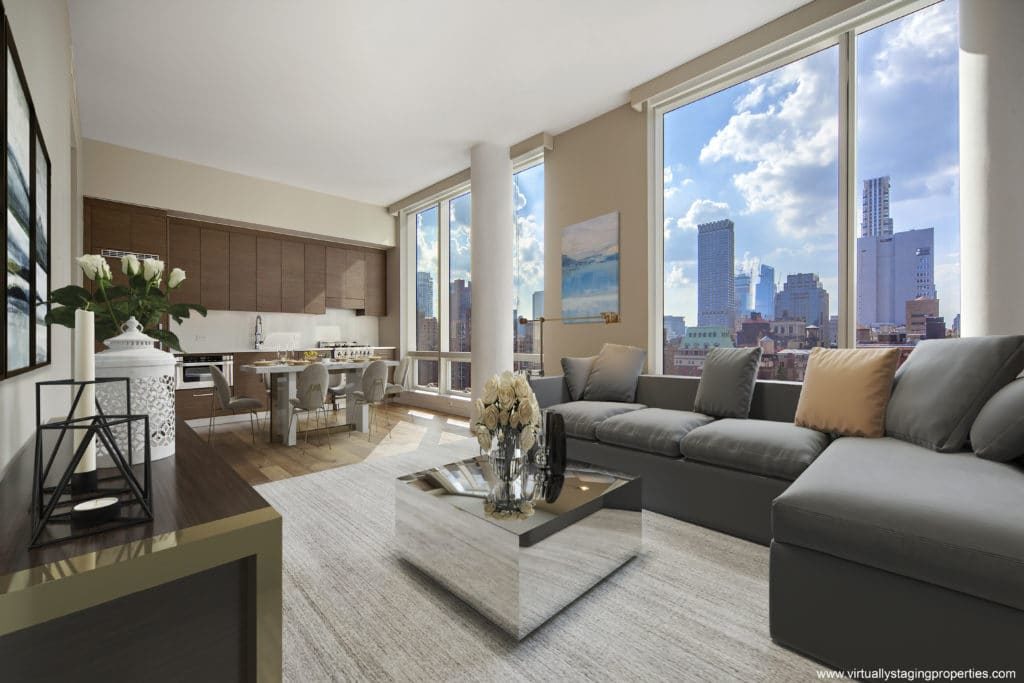 The focal points of this living room are the large, floor-to-ceiling windows and the amazing view of the city. We emphasized the view by staging neutral furniture and with the armchair facing the windows. The contemporary furniture matches the vibe of this condo, appealing to homebuyers who want a low-maintenance home.
Kitchens
Kitchens are the heart of the home, especially around the holidays when you gather around good food and family. You might not think it's possible to stage a kitchen to showcase the possibility of these family gatherings, but the staged kitchens below will prove you wrong:
This kitchen has lots of counter space, light, and opportunities for gatherings. By adding homey touches, like fruit bowls, baking containers, and cookbooks, the room is welcoming and family-friendly. Plus, with the dining room opening off the kitchen, it's easy to envision your family sitting down to Thanksgiving dinner with the smell of pumpkin pie throughout the rooms.
Because this is a smaller kitchen, we wanted to make sure buyers could see the counter space and opportunity for seating. We limited the items put on the counters, choosing only fruit and some container, to highlight, and added barstools to the island.
Master Bedroom
When buyers look at master bedrooms, they're looking for a relaxing, stress-free room where they can rest and rejuvenate. You can create that experience by staging your master with neutral colors, calming accents, and minimal furniture. Here are our favorite staged master bedrooms.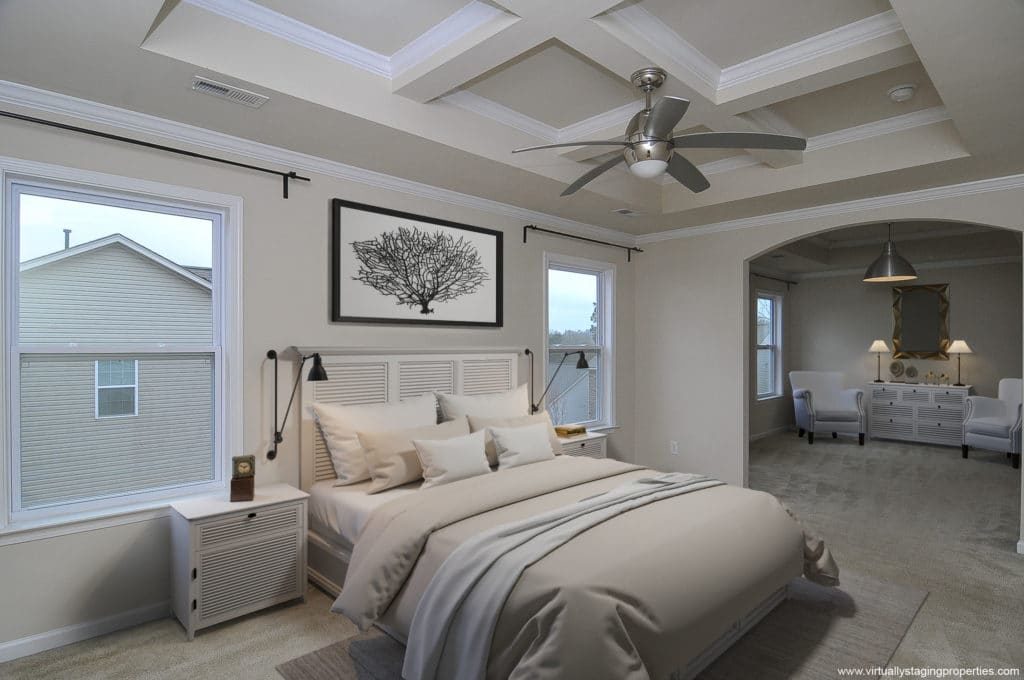 This master bedroom has a lot of great design elements, like the coffered ceilings, archway into the sitting room, and crown moldings. By only placing a bed, nightstands, and a sitting area in the sitting room, you're able to take in the full effect of this peaceful room and imagine what it would be like to come home after a long day and relax here.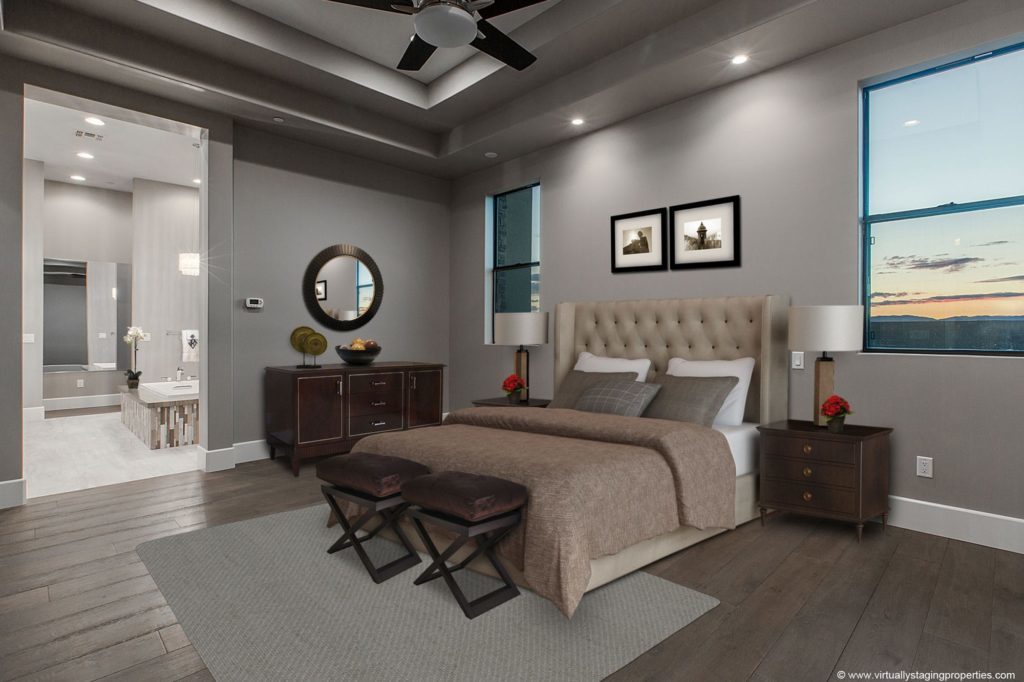 This room's subdued color already brings on the relaxing vibes. To accent this spa-like feel, a neutral, padded headboard, flowers, picture frames were added. Because the master bath is also visible, greenery was added to extend the spa feel into the bathroom.
Outdoor Spaces
Whether it's a view, space to entertain, or space for a swing set, most buyers are looking for some kind of outdoor space with their home. By staging your outdoor space, you give buyers an idea of what it would be like to relax with a glass of wine on the balcony or watch their kids run around the backyard.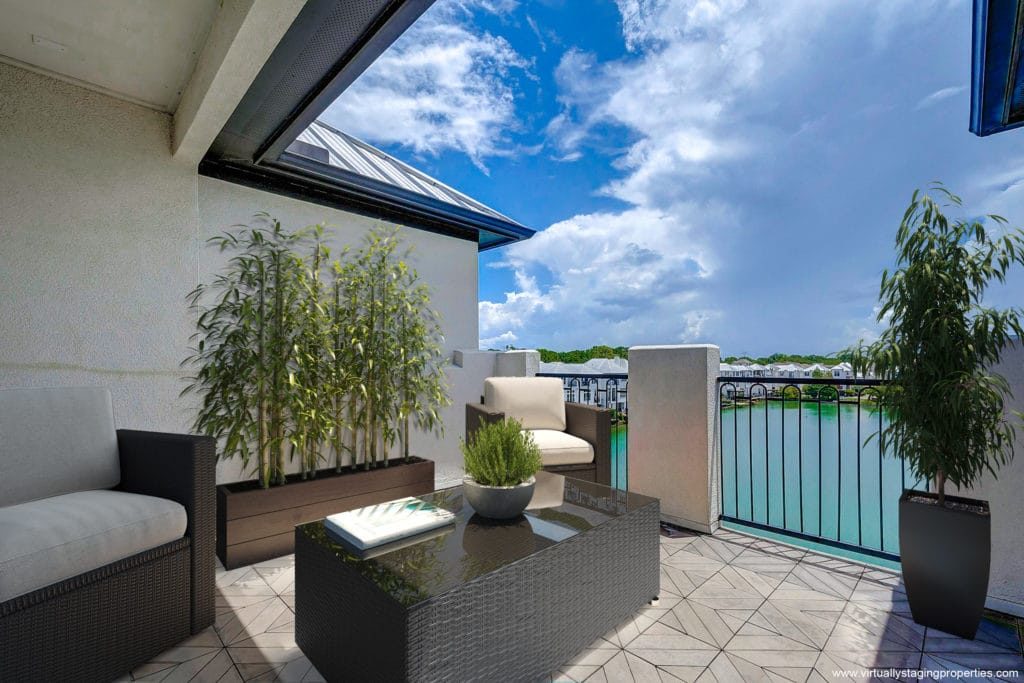 Despite the small balcony space, the view is absolutely gorgeous and showcases the beauty and calmness that comes with this home. Using wicker outdoor furniture and plants, this outdoor space is now a relaxing oasis.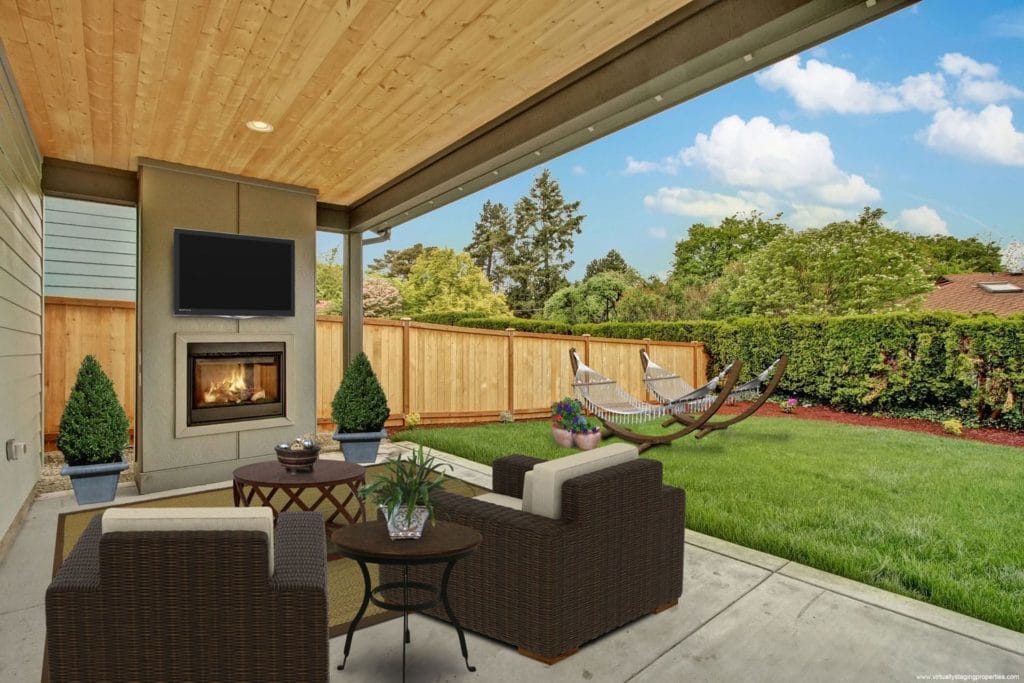 This backyard space is perfect for entertaining, watching kids play, or relaxing. By adding furniture around the fireplace and a hammock in the yard, it's easy to see yourself hanging out in the backyard or entertaining with friends.
—
Need Help Staging Your Home?
Virtual staging is an easy and cost-effective way to stage your home in a photorealistic way. Homebuyers will be able to look at photos of your home with modern furnishings and decor, making your home feel warm and welcoming – ultimately leading to more showings and a quick sale. Learn more about virtual staging by contacting our team today.
"Love the photos! I will be your most devoted client!  Thank You!!!"
PAMELA BELLLAH, Managing Broker | John L. Scott Real Estate – Washington
"Your virtual staging product is sensational! The efficiency condo I had listed was in a community of 60+ units for sale and had no offers.  After posting the 3 virtually staged photos of my unit, I got an offer within 5 days and beat out all the competing units listed in the same price range.  Thanks for a great job!"
SUE MILLER, Realtor | Re/Max of Naperville – Illinois
"Our vacant property was listed for sale with no offers for over 90 days and after virtual staging of the photos took place, we instantly saw an increase in buyer traffic and got an offer in less than 4 weeks.  The buyers liked the photos which helped them with decorating ideas for the home."
JEANNIE THOMPSON, Agent | Long & Foster – Virginia
"The unfurnished townhome we had listed had been on the market for 4 months until we decided to engage in virtual staging.  I had the townhome professionally photographed and then had the photos virtually staged and they were so realistic.  We had a binding contract within 2 weeks after posting the virtual photos!"
ERIC BROOKS, Realtor | Wydler Brooks Real Estate – Virginia
"After posting the virtually staged photos I saw an increase in showings and we got my vacant listing under contract in less than 14 days! "
PAUL HERRICK, Realtor | Keller Williams Realty – Massachusetts