The Three Most Important Rooms to Stage In Your Home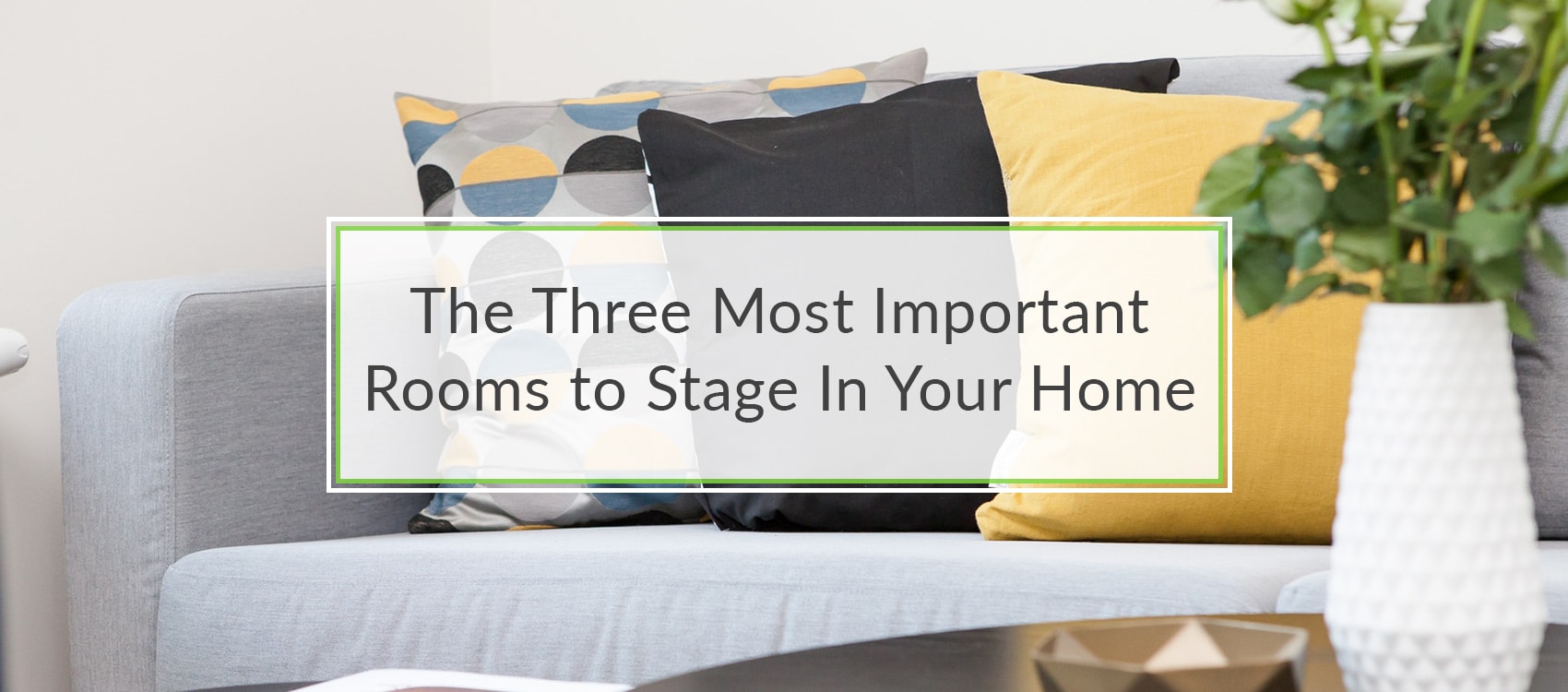 Which Rooms in Your Home Should You Stage?
Home staging is one of the most effective steps you can take to maximize the selling price of your property and get it sold faster. You may be wondering, "Do I need to stage every room in my house, or should I just focus on a few areas?" You're not the only one to ask that question, and today, we'll do a deep-dive into which rooms are the most important to stage to sell your home and how to stage them.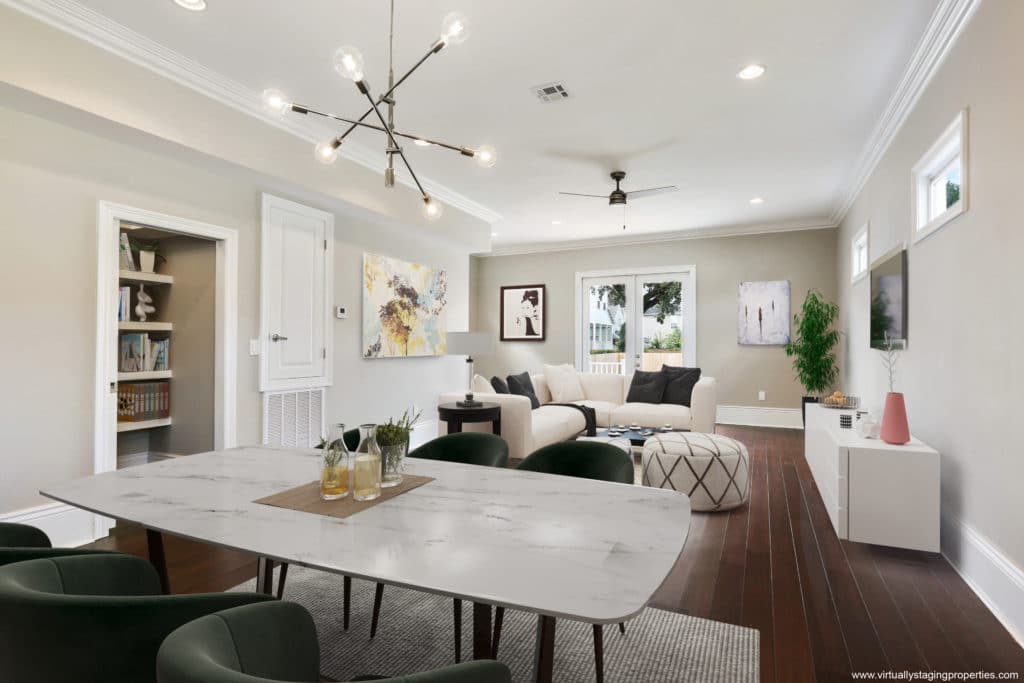 The Living Room is the Most Important Room to Stage
According to the National Association of Realtors (NAR) and their 2017 Profile of Home Staging, 86 percent of buyers say that seeing a staged living room is "important" or "very important," a rate higher than any other room in the house. Fortunately, this aligns with sellers' staging trends, with 83 percent of sellers who choose to stage the living room.
To easily stage your living room, consider these tips:
De-clutter and remove personalized items, knickknacks, and photographs
Professionally clean the carpet
Paint the space a neutral tone like cream, beige, or gray
Define the space and allow buyers to envision themselves living there
Decorate with greenery, fresh flowers, and attractive artwork
If you have a small living room, you can make the room appear bigger by letting in natural light (pull up the shades and pin back the window treatments) and adding plants and greenery. 
Another key thing to keep in mind when staging your living room: a lot of people like to entertain. When prospective buyers are touring homes, they're thinking about how functional the space is for parties and seating. To make it easy for them, arrange the furniture to showcase how excellent the space is for parties and get-togethers. (This is also a good idea for small living rooms too!)

Staging the Master Bedroom Makes an Impact
Buyers consider the master bedroom to be the second most important room in the house to stage, with 84 percent of buyers saying the master bedroom was "important" or "very important" to stage.  While this was the third most common space for sellers to stage, the master bedroom was staged in nearly 70 percent of homes where staging took place.
To stage your master bedroom, follow similar steps as the living room, taking special care to declutter and remove personalized items and pictures. Also, include these helpful tips:
Avoid a "themed" bedroom like a Victorian look or a nautical theme because that can distract the buyer rather than entice him or her.
Clean out closets and show off storage to its best effect
If there is an en-suite bathroom, remove towels, toiletries, and other personal items
Add soft bedding and use throw pillows and throw blankets to add pops of color to a master bedroom along with natural greenery
If you have a small master bedroom, focus on making the space cozy. You can do this by adding matching bedside tables to each side of your bed, pulling back window treatments to let in natural light, and using natural colors to decorate.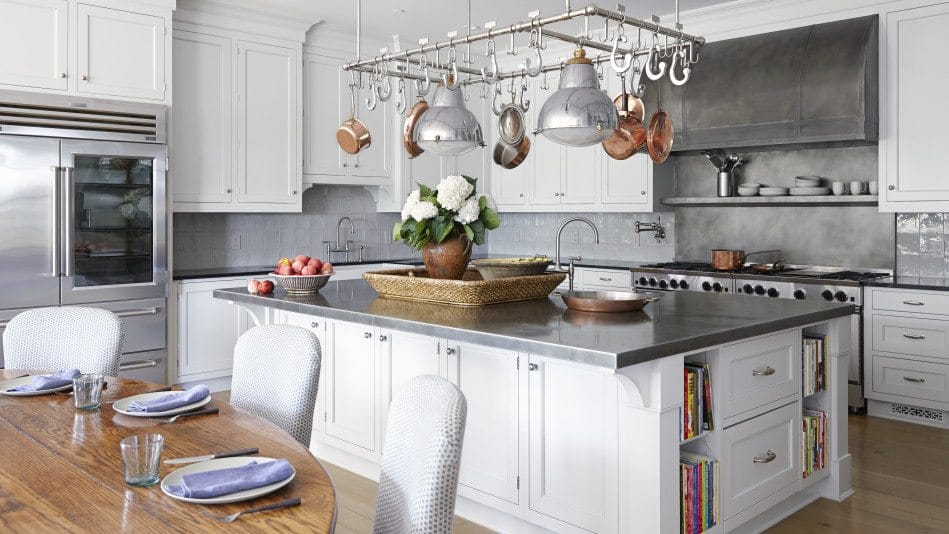 The Kitchen is the Heart of the Home when Staging
The kitchen is the third most important room to stage with 68 percent of buyers considering the kitchen "important" or "very important," and 76 percent of sellers would stage their kitchen when staging the house.
To stage your kitchen, consider these steps:
Update appliances to stainless steel
Show off storage solutions in cabinets, drawers, and the pantry, so removing clutter from here is a must!
Have professional cleaning and fresh paint – kitchen cleanliness is vital to staging!
Clear the counters with the exception of a vase of flowers, a bowl of fresh, ripe fruit, a cookbook open and on display in a holder, or an attractive tea kettle resting on the stove.
If you have a small kitchen, you can make it appear larger by staging an eat-in table and chairs. Also, make sure to add a place setting for two and a rug underneath to define the space.
Potential buyers want to see a bright, sparkling kitchen. Decluttering and cleaning are two of the most important things you can do to stage your kitchen.
—
By taking the time to stage your home, your house will appeal to potential buyers in photographs and in-person. This will lead to more interest in your home, a faster sale, and more money in your pocket.
Consider Virtual Staging for Your Photographs
If you're not sure how to stage your home for sale, or you don't have professional staging available in your area, consider virtual staging! This is an efficient, affordable way to stage photographs of your vacant property to make them look attractive, stylish, and eye-catching in online listings. With over 90 percent of home buyers using online resources and websites for their home search, having photographs that provide a sense of scale and showrooms at their best is necessary to get buyers interested in your home.
At Virtually Staging Properties, we pride ourselves on our wide variety of design elements we can add to your photographs along with a fast turnaround that makes it easy for you to post your gorgeous photos in no time! Contact us at (877) 949-9797 and let us help you get your home sold in no time!
"The photos were beautiful and certainly gave life to my vacant listing and within the first week after posting the photos and the listing online, we got 4 offers and a full price offer was accepted.  Thank You!"
ANNMARIE DEL FRANCO, Agent | Blackstone Properties of CT – Connecticut
"Our vacant property was listed for sale with no offers for over 90 days and after virtual staging of the photos took place, we instantly saw an increase in buyer traffic and got an offer in less than 4 weeks.  The buyers liked the photos which helped them with decorating ideas for the home."
JEANNIE THOMPSON, Agent | Long & Foster – Virginia
"The unfurnished townhome we had listed had been on the market for 4 months until we decided to engage in virtual staging.  I had the townhome professionally photographed and then had the photos virtually staged and they were so realistic.  We had a binding contract within 2 weeks after posting the virtual photos!"
ERIC BROOKS, Realtor | Wydler Brooks Real Estate – Virginia
"Virtually Staging Properties offers a phenomenal service!  I have listings that have little to no furnishings and need to be brought to life and VSP does just that.  My clients love the product and my virtual photos get wonderful internet exposure.  I have sold every virtually staged home by VSP faster and will recommend the service to my Realtor colleagues.  Thank You!!"
IRINA BABB, Realtor | Re/Max Allegiance – Virginia
"I only post virtually staged photos by VSP for my vacant listings and it is an excellent service instead of having blank rooms for buyers to view online."
MARTHA MAY, Realtor | Koenig & Strey – Illinois