How to Stage Your Home Like an Interior Design Expert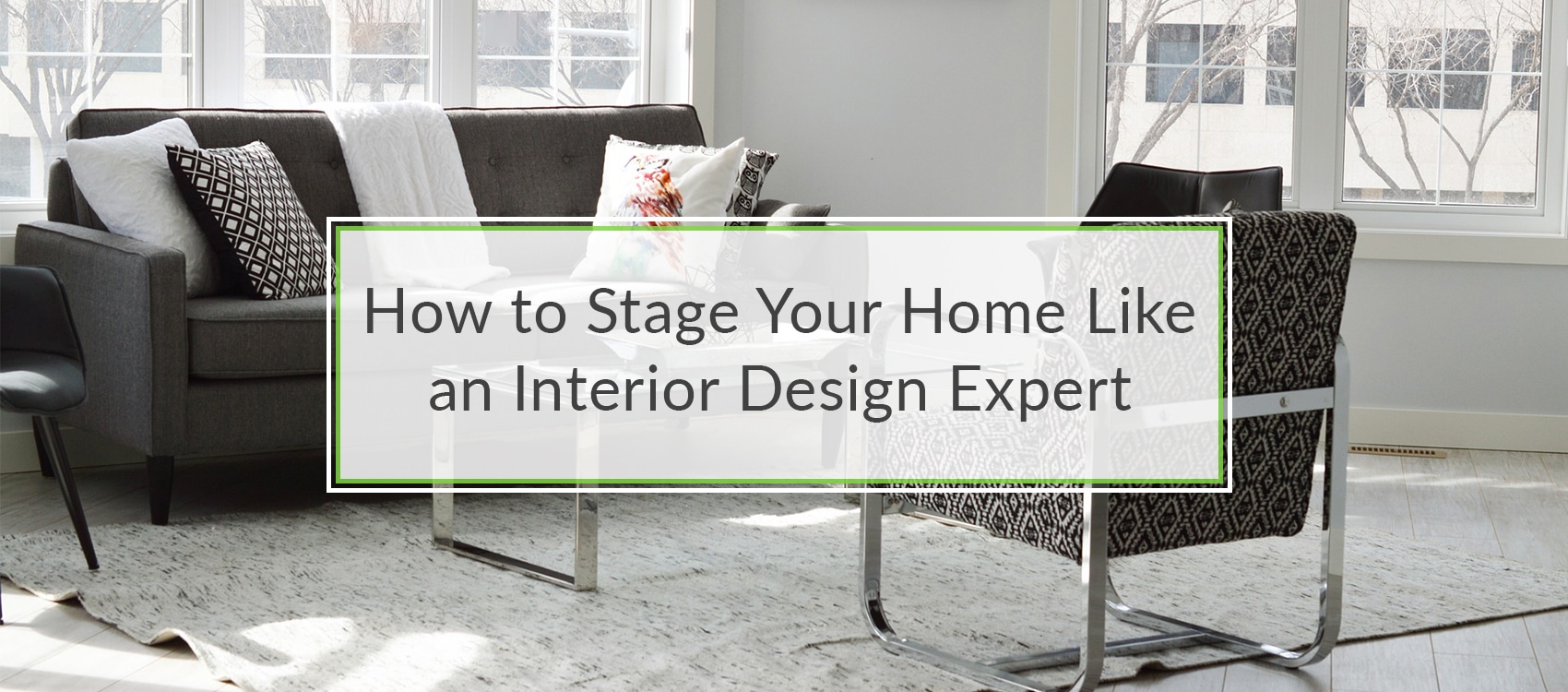 While we often talk about the positive effects that staging can have on a property, from maximizing the selling price to getting it off the market faster than vacant properties, it's important to consider the staging itself. Instead of trying to copy the latest trends that may fall flat, here are some tips from our own Krisztina Bell, whose extensive design experience has been highlighted on HGTV's Property Brothers and House Hunters and in Realtor Magazine.
Remove Your Presence from Your Staging
No matter how beautifully decorated your home is, decorating and staging are very different. You decorate your home to suit your specific tastes and the needs of your family. For example, you may have a beautiful, pale pink bedroom with matching upholstery and bedding and rustic, distressed white furniture. If it suits your style, that's great! It's a very specific style, though.
Staging is setting up a home that lets a buyer envision him or herself living in the home, which means keeping it non-specific to trends. Removing personal items from the home like family photos and knick-knacks and cleaning clutter off surfaces like counters and built-ins should be your first step toward a successful home staging.
Keep Your Home Staging Simple
The idea of home staging is to create a feeling of spaciousness, make an amazing impression, and allow prospective buyers to fall in love with the idea of living there. That's why I keep a "Less is Best" philosophy and use clean lines and classic styles that offer a broad appeal, such as deep wood furnishings and solid upholsteries in neutral shades. I never want a home to feel boring though, and I love adding personality with a large piece of artwork in the foyer or entryway to spark a "Wow!" factor!
If you are staging your own home, remove heavy furniture that isn't necessary, like china cabinets, bookshelves, and entertainment centers. Not only will this prevent a cluttered feel, it will highlight a room's specific purpose. For your "Wow!" factor, consider a display of seasonal, fresh-cut flowers and greenery!
Create a Beautiful Backdrop
Nothing freshens up a home to put on the market like fresh paint and a professional cleaning. Even if your rooms are painted white, you may not realize how easily white can look dingy after a few years. Consider a fresh, neutral tone that works with your flooring and natural lighting – for inspiration, check out my favorite paint colors for home staging!
A professional cleaning can give a facelift to a property. No matter how attractive the furnishings and décor are or how bright the paint color, if the home isn't clean and hygienic, buyers will be turned off. Consider hiring a professional cleaning service to vacuum air vents, clean baseboards, remove stains and odors from carpets, and deep clean the kitchen and baths. When buyers walk into a freshly painted, freshly cleaned home, they can just feel (and smell) a difference, which is more likely to translate into a sale for you!
If you are ready to sell your home and aren't sure if physically staging a property is right for you, consider Virtually Staging Properties! Instead of worrying about staging your own property and picking out décor and furnishings, let us recreate your home online by virtually staging the photos of your vacant rooms. With buyers starting their search online, let your property be the beautifully staged, well-designed home that gets buyer traffic! Contact us today to set up a consultation at (877) 949-9797!
"Your virtual staging product is sensational! The efficiency condo I had listed was in a community of 60+ units for sale and had no offers.  After posting the 3 virtually staged photos of my unit, I got an offer within 5 days and beat out all the competing units listed in the same price range.  Thanks for a great job!"
SUE MILLER, Realtor | Re/Max of Naperville – Illinois
"We received 2 offers in less than a week and a half.  The property was listed with vacant photos for over 220 days on the market with no offers.  Many buyers passed on the house but after posting the virtual photos, they changed their minds and we definitely saw an increase in buyer traffic!"
TRISH BRADLEY, Agent | Rutledge Properties – Massachusettes
"After posting the virtually staged photos I saw an increase in showings and we got my vacant listing under contract in less than 14 days! "
PAUL HERRICK, Realtor | Keller Williams Realty – Massachusetts
"The photos were beautiful and certainly gave life to my vacant listing and within the first week after posting the photos and the listing online, we got 4 offers and a full price offer was accepted.  Thank You!"
ANNMARIE DEL FRANCO, Agent | Blackstone Properties of CT – Connecticut
"I only post virtually staged photos by VSP for my vacant listings and it is an excellent service instead of having blank rooms for buyers to view online."
MARTHA MAY, Realtor | Koenig & Strey – Illinois