More Homebuyers are Bidding on Homes Sight Unseen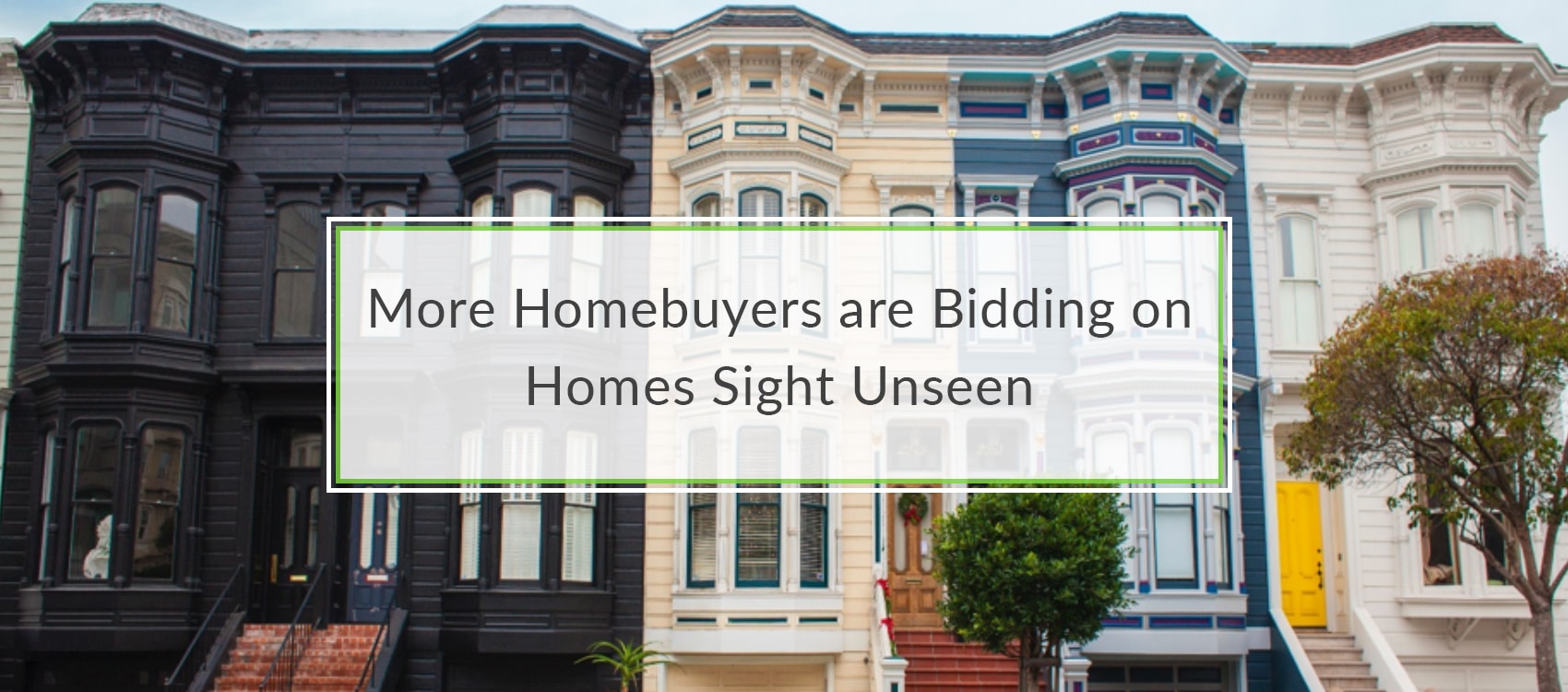 The process of finding the perfect home is lengthy and exhausting, and now that much of the country is experiencing a housing shortage, that process is getting harder. To save time, get the perfect home, and beat other offers, more homebuyers are bidding on homes than ever before without seeing them in person. While this may seem crazy to some buyers, there are several reasons behind this trend.
The Numbers Behind Bidding on a Home Before Seeing It
In 2016, approximately 19 percent of homebuyers put their bid in before they even saw the property. In 2017, that number of homebuyers bidding on a home before seeing it skyrocketed to 35 percent! So, who is doing it, and where are these bids happening?
In 2017, the cities with the highest rate of sight unseen purchases were:
Los Angeles, CA – 57 percent
San Diego, CA – 46 percent
San Francisco, CA – 44 percent
Chicago, IL – 38 percent
Austin, TX – 35 percent
Not only are these cities prime locations right now with booming populations, these cities are often sought after by foreign investors who are more likely to buy a property through a proxy or have a realtor or assistant assist them with finding property.
Besides foreign investors, it probably comes as no surprise that the group most likely to bid on a home, sight unseen, are Millennials. Nearly half of the were Millennials (people born between 1981 and 1996), while Generation X buyers (born between 1965-1980) only made up 28% of the purchases. Baby boomers (people born between 1946 and 1964) were even less likely to buy a house without seeing it first, making up only six percent.
Why Is This Becoming More Common?
There are three main contributors to this rise in sight unseen bids:
Housing shortage; In many markets, houses are on the market for only a few hours before being snapped up, rather than days or even weeks. To have even an attempt at bidding on a property, buyers need to make a choice, often based on nothing but an online listing
Long-distance relocations; When buyers are moving long-distances, they want their home waiting for them. Buyers often prefer this over the old method of moving to a town and renting for a short period or living in temporary housing while trying to buy a home. Between online listings and working with a real estate agent who can provide more information of the property, buyers are empowered to make informed choices without being in the home itself.
Trust in Online Shopping; From groceries to wedding gowns, Millennial shoppers are comfortable making choices from what they see online, and don't consider a house any different. Between plentiful photographs, 3D walkthroughs, and neighborhood data, these buyers are doing their research from their home, office, or on the go!
Showing Your Home Online
If you want your home to be competitive online and stand out against other online property listings, high-quality photographs are a necessity. Consider using virtual staging to elevate your listing. Instead of worrying about the cost, time, and availability of physical staging for live home tours, virtual staging allows designers to transform photographs of vacant properties anywhere into decorated, designed homes using incredible technology!
With virtual staging, the photos can convey a sense of space, which can often be hard to determine from a picture of a vacant room. They can also create a feeling of home and comfort through the photographs, letting the buyer envision him or herself living there – a feeling you can't get from a vacant, empty room. An additional bonus to virtual staging is the designer has a wide array of styles and designs to choose from, allowing them to select the perfect furnishings and décor to transform your online pictures from drab to desirable.
Contact Virtually Staging Properties
Virtually Staging Properties is the leading design team for transforming vacant rooms and spaces into gorgeous, eye-catching properties that will entice buyers into making a bid or scheduling a tour. Founded by real estate agents and designers, we know the importance of creating amazing images for online listings. With our quick turnaround and a vast portfolio of furnishings and décor, we can select the perfect elements to elevate every part of the home and get your listing noticed by buyers. Reach out to us today us at (877)949-9797 or fill out a contact form to get started!
"You all did a phenomenal job on these virtual staging photos!  Really, I can't say enough how much I love them.  They are absolutely stunning and my clients are thrilled!"
SHEILA SALVITTI, Agent | Coldwell Banker Premier Properties – Pennsylvania
"I only post virtually staged photos by VSP for my vacant listings and it is an excellent service instead of having blank rooms for buyers to view online."
MARTHA MAY, Realtor | Koenig & Strey – Illinois
"I was thrilled with our virtual photos cause we got an offer just 5 days after posting the photos online!"
PEGGY RYAN-LANIGAN, Realtor | Lyon Real Estate – California
"The unfurnished townhome we had listed had been on the market for 4 months until we decided to engage in virtual staging.  I had the townhome professionally photographed and then had the photos virtually staged and they were so realistic.  We had a binding contract within 2 weeks after posting the virtual photos!"
ERIC BROOKS, Realtor | Wydler Brooks Real Estate – Virginia
"After posting the virtually staged photos I saw an increase in showings and we got my vacant listing under contract in less than 14 days! "
PAUL HERRICK, Realtor | Keller Williams Realty – Massachusetts