Using Virtual Staging and 2018 Interior Design Trends to Sell Your Home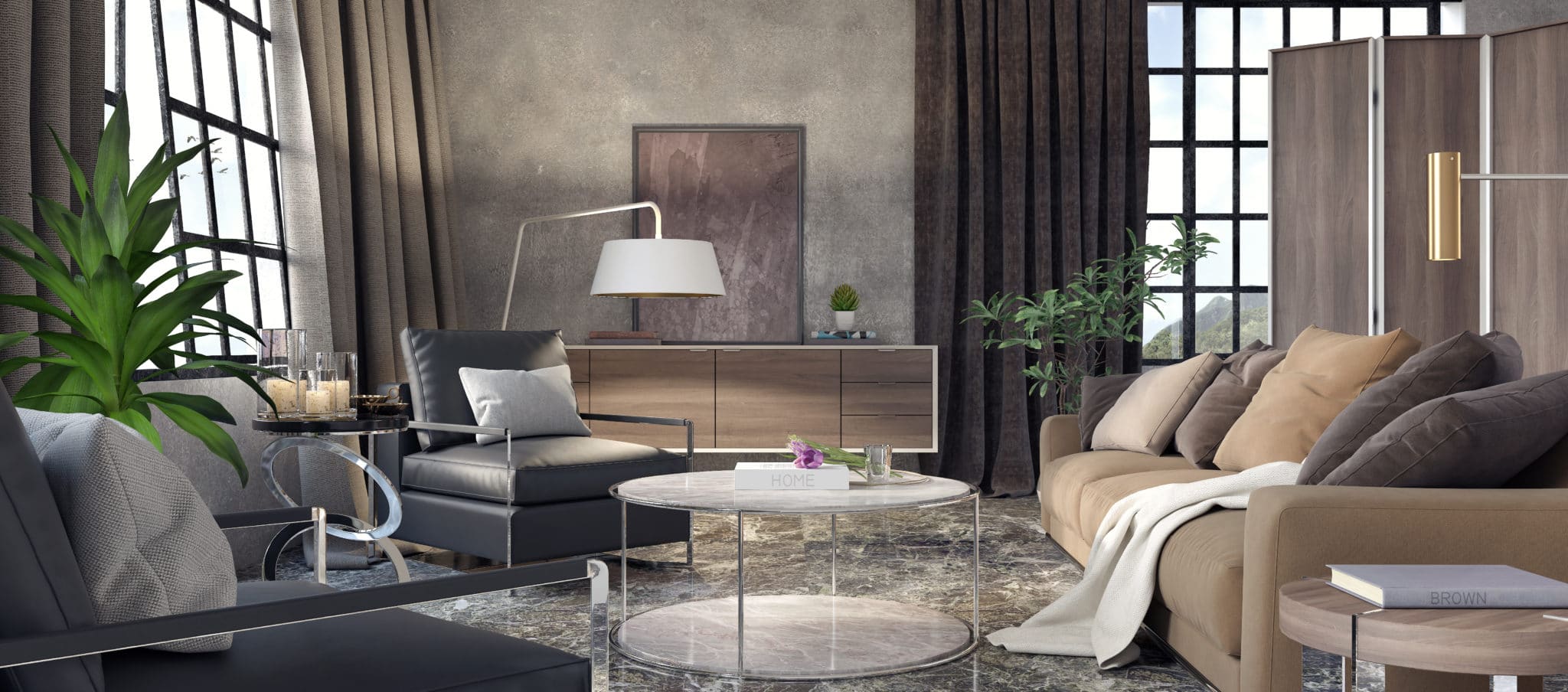 If you are ready to sell your home, virtual staging is a great option to help your home sell faster. With over 90 percent of home searches taking place online, having beautiful photographs of your home is vital to sparking buyer interest. Not only is virtual staging cost-effective and perfect for homes where professional staging isn't an option, virtual staging allows you to have the hottest design trends incorporated into your home to entice buyers to want to tour your modern, beautiful home.
Here are some of the top 2018 interior design trends and how virtual staging can add these elements to your home to help it sell faster!
A Move Toward Vintage and Natural Elements with Bold, Warm Colors
Move over white-on-white kitchens, minimalism, and rose gold! The looks that were so popular in 2017 home interior are out the door because 2018 is all about warmth and cozy styles. From natural elements like reclaimed wood, rough stone, and earth tones to velvet sofas in deep reds and olive, design trends are making a clear shift toward creating spaces that feel lived in, warm, and welcoming!
Natural Elements Inspire Green Living
Reclaimed wooden furnishings, stone floors and tile, and greenery everywhere are hallmarks of 2018 interior design. With a turn toward eco-friendly design and a need for green living, younger home buyers are seeking to bring nature indoors, and they are doing it in a big way! Reclaimed wood walls, bamboo or cork flooring, and soapstone counters and sinks are popular elements that combine function with beauty.
Virtual Staging with Natural Elements: By adding lush greenery through the photographs along with furnishings made from reclaimed or weathered wood, stone centerpieces, and rugs made from natural fibers, virtual staging designers will create an earthy, eco-friendly feel throughout each photograph.
Deep, Rich Colors are Huge for 2018 Interior Design
The icy whites, cool grays, and monochromatic palettes are disappearing as deep, moody colors and warm tones are making a big splash. From Benjamin Moore's 2018 Paint Color of the Year (Caliente – a deep, vivid red) to Pantone's 2018 Color of the Year (Ultraviolet – a dark purple with blue undertones), designers are embracing color again. From the earthy warmth of burnt yellows, olive greens, and deep reds to the jewel tones of indigo, purples, and deep jade green, interiors are going bold!
Virtual Staging with Deep Colors: No matter the paint shade on the walls or the color of the flooring, virtual staging designers can add furniture or accessories in brilliant colors that will coordinate beautifully with your current look of the home. From contrasting cool grays with deep reds or sapphire blue to bringing life to a monochromatic white room, the elements chosen will bring drama and warmth to each room.
To ensure your online photographs get results from prospective buyers, see how Virtually Staging Properties can help! Our experienced design team offers realistic furnishings and elements to create spaces that prospective buyers will fall in love with. Reach out to us today at  (877)949-9797 or fill out an online contact form to learn more!
"Love the photos! I will be your most devoted client!  Thank You!!!"
PAMELA BELLLAH, Managing Broker | John L. Scott Real Estate – Washington
"You all did a phenomenal job on these virtual staging photos!  Really, I can't say enough how much I love them.  They are absolutely stunning and my clients are thrilled!"
SHEILA SALVITTI, Agent | Coldwell Banker Premier Properties – Pennsylvania
"We received 2 offers in less than a week and a half.  The property was listed with vacant photos for over 220 days on the market with no offers.  Many buyers passed on the house but after posting the virtual photos, they changed their minds and we definitely saw an increase in buyer traffic!"
TRISH BRADLEY, Agent | Rutledge Properties – Massachusettes
"Our vacant property was listed for sale with no offers for over 90 days and after virtual staging of the photos took place, we instantly saw an increase in buyer traffic and got an offer in less than 4 weeks.  The buyers liked the photos which helped them with decorating ideas for the home."
JEANNIE THOMPSON, Agent | Long & Foster – Virginia
"I was thrilled with our virtual photos cause we got an offer just 5 days after posting the photos online!"
PEGGY RYAN-LANIGAN, Realtor | Lyon Real Estate – California