5 Easy Tips for Getting the Max Value for Your Home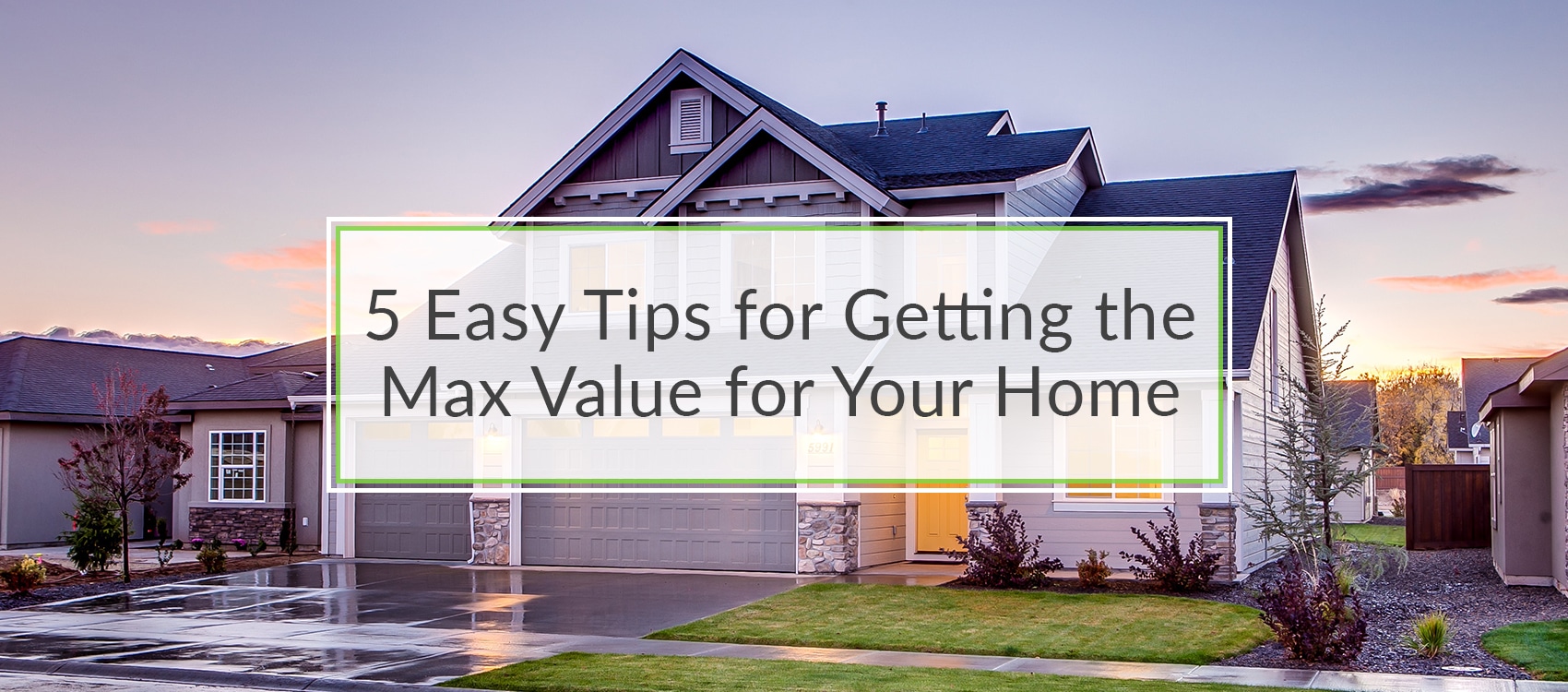 So, you've decided it's time to sell your house! Whether you have outgrown your current home and are looking for more space for your family, you're relocating to a new city, or your current home just isn't working for you anymore, there are countless reasons to sell. No matter the reason, every seller has one thing in common: you want to get the maximum value for your home. If you follow these five tips, you should have no trouble selling your home for exactly what it is worth.
Consider an Appraisal to Know the Maximum Value for Your Home
You may have some idea what your home is worth, whether you've looked at houses in your neighborhood and know their selling price or you have a general idea of how the market has shifted in your area in the time since you bought your home. When selling, you want solid knowledge of your home's value to avoid either the home sitting on the market for months because it's overpriced or short-changing yourself. Having your home professionally appraised before you put it on the market can give you the information you need to price your home correctly and make necessary changes to raise the price accordingly.
Do Necessary Maintenance Before Putting Your Home on the Market
While old bathtub caulk, torn window screens, and broken sidewalk concrete aren't necessarily going to lower the market value of your home, they do make your home look rundown. Potential buyers see these fixes and are either turned off, causing your house to sit unsold for longer periods or will try to use needed repairs to bargain a lower price. Prior to putting your home on the market, walk through with a buyer's eye, and look for anything preventing you from getting the maximum value for your house. Power wash the exterior, clean up the yard, fix leaky faucets, and other routine maintenance.
Kitchens and Bathrooms Add to the Maximum Value for Your Home
Having an updated kitchen and bathrooms can add value to your home without a lot of costs. In fact, minor kitchen upgrades have one of the best returns on investment, at over 80 percent. Outdated vanities and lighting can be replaced for less than $1,000 and can completely change the look of a bathroom. Instead of overhauling your kitchen, consider refacing the cabinets, changing out hardware, and replacing fixtures for a big change in appearance without costing a lot of money.
Staging Your Home Leads to a Higher Selling Price
Instead of showing a vacant home or an overly personalized space that turns buyers off, consider working with a staging company who can help you maximize the selling price of your home by showing your home at its best advantage. Staging a home defines spaces, creates a feeling of scale, and is attractive without being personalized, so the prospective buyer can envision themselves living there, instead of picturing themselves living in someone else's home. Staging is also one of the best ways to maximize the selling price of a home, with staged homes selling at up to 10 percent more than vacant properties.
Post Attractive Pictures Online to Bring in Interested Buyers
No matter how well maintained or accurately priced your home is, with 90 percent of home buyers beginning their search online, if your pictures are blurry, dark, or show vacant spaces, you will miss out on interest. Instead of using your cell phone to take pictures, consider having professional photographs done to show your home at its best. Also, if you choose to not stage your home physically, the photographs can be "virtually staged." Virtually Staging Properties allows designers to add three-dimensional furnishings to vacant spaces to create gorgeous online photographs that entice buyers and give them a better sense of what the home looks and feels like. This is a perfect option for sellers who are looking for a cost-effective way to stage their home.
If you are ready to sell your home and are interested in getting the maximum value for your property, reach out to Virtually Staging Properties. Our beautifully staged photographs ensure that prospective buyers will want to reach out and tour your home. Contact us today to learn more or call (877)949-9797 and see how virtually staged home photographs can benefit you!
"I was thrilled with our virtual photos cause we got an offer just 5 days after posting the photos online!"
PEGGY RYAN-LANIGAN, Realtor | Lyon Real Estate – California
"Our vacant property was listed for sale with no offers for over 90 days and after virtual staging of the photos took place, we instantly saw an increase in buyer traffic and got an offer in less than 4 weeks.  The buyers liked the photos which helped them with decorating ideas for the home."
JEANNIE THOMPSON, Agent | Long & Foster – Virginia
"The photos were beautiful and certainly gave life to my vacant listing and within the first week after posting the photos and the listing online, we got 4 offers and a full price offer was accepted.  Thank You!"
ANNMARIE DEL FRANCO, Agent | Blackstone Properties of CT – Connecticut
"You all did a phenomenal job on these virtual staging photos!  Really, I can't say enough how much I love them.  They are absolutely stunning and my clients are thrilled!"
SHEILA SALVITTI, Agent | Coldwell Banker Premier Properties – Pennsylvania
"Virtually Staging Properties offers a phenomenal service!  I have listings that have little to no furnishings and need to be brought to life and VSP does just that.  My clients love the product and my virtual photos get wonderful internet exposure.  I have sold every virtually staged home by VSP faster and will recommend the service to my Realtor colleagues.  Thank You!!"
IRINA BABB, Realtor | Re/Max Allegiance – Virginia