Why Sellers Are Choosing Virtual Staging Over Traditional Home Staging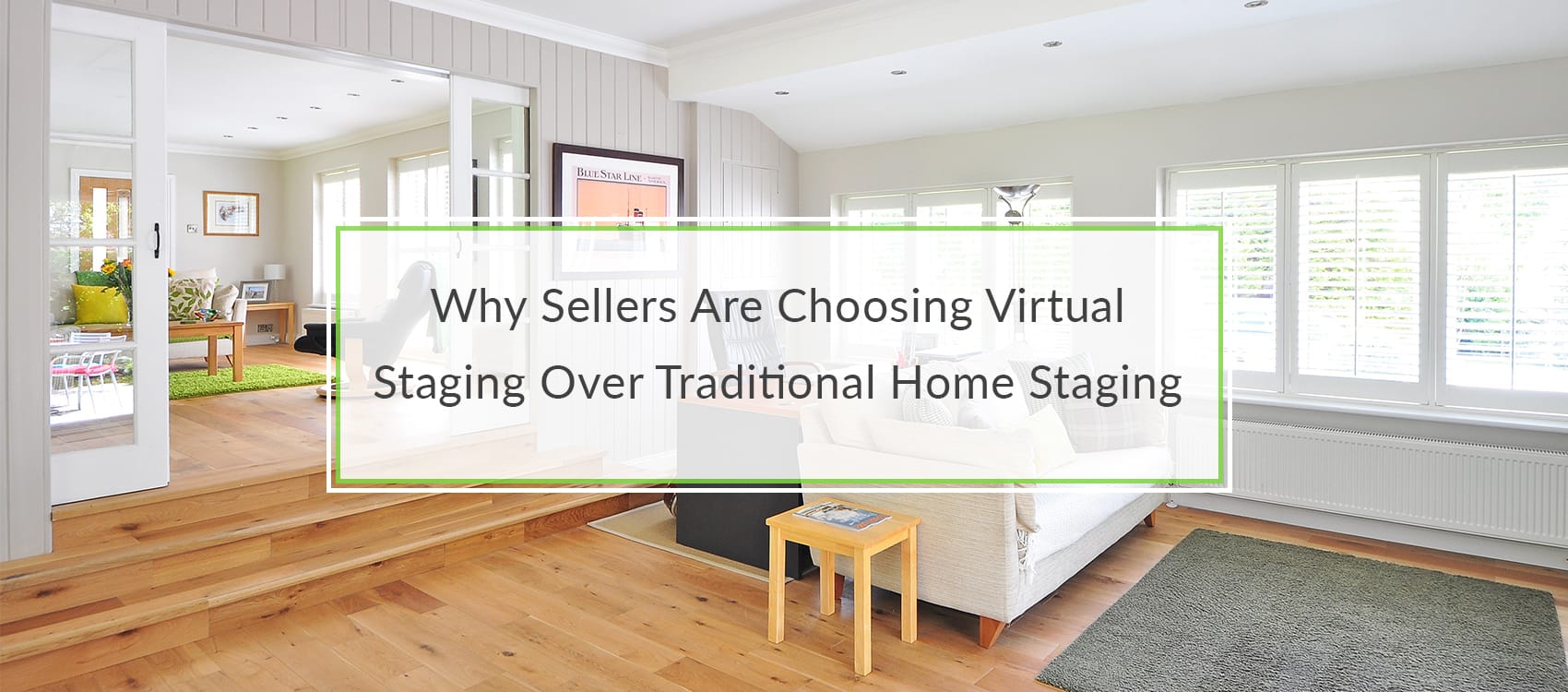 Virtual staging allows designers to digitally furnish and decorate a room for online photographs. When done by qualified, experienced professionals, this method transforms vacant spaces into beautiful, realistically furnished, three-dimensional rooms. Virtual staging is rapidly growing in popularity, but why are more home sellers looking at virtual staging to help sell their home rather than traditional home staging?
Virtual Staging Creates Powerful Online Marketing
Over 90 percent of prospective home buyers begin their search online, and of those people, 97 percent of them say photographs are the most important feature of the home's listing! With so many homes listed online, setting your listing apart by posting professional, high-quality photographs can lead to more interest from home buyers.
By using virtual staging services, you can post photographs that show a room to its best advantage. Instead of vacant spaces with no sense of scale or definition, a furnished area provides that scale and definition. Plus, staging allows you to use modern, stylish furnishings and décor that work with the space and create warm, inviting rooms rather than overly personal, cluttered spaces.  While traditional home staging leads to both excellent photographs for home listings and a lovely backdrop for open houses and home tours, many sellers find virtual staging has more benefits.
Virtual Staging is Cost Effective
It's true that traditional home staging provides a return on investment that is very impressive, but the upfront cost of it may not be worth it for some sellers. For example, a mid-range or smaller home may not benefit from a full staging that could cost upwards of a few thousand dollars.
However, for only a few hundred dollars, they can have professional pictures taken and sent to a virtual staging company. The company can then outfit the vacant property with gorgeous, realistic furnishings and décor that work perfectly for online home listings that will pique a buyer's interest!
Virtual Staging Provides a Wide Variety of Design Elements
With virtual staging, designers have vast portfolios of furnishings and décor options. Because they aren't limited to what physical pieces are available to rent, they have nearly endless style choices, colors, and sizes, virtual staging designers can pair the perfect elements to the picture. Photographs can always show homes decorated in up-to-date furnishings and accessories, and this also makes virtual staging an excellent option for homes that are more eclectic or original in their shape, style, layout, or color scheme.
Virtual Home Staging is Perfect for Sellers Still in their Home
For sellers who are waiting for their home to sell prior to vacating, virtual home staging can be a great option. For transparency, virtual staging does not remove or change elements already in the home, but a seller can remove or relocate their furniture, personal effects, and decorations while taking the pictures of empty spaces, then putting everything back, letting them live comfortably in their home during the selling process.
Buyers Enjoy the Benefit of Seeing the Property Staged and Move-In Ready
When a buyer is looking at homes online, seeing virtually staged properties allows buyers to see the home to its best advantage. However, when they tour the home, they will get to see a vacant home that is ready to move in and make their own. Some buyers do prefer seeing the property vacant in person,  allowing them to get a true feel for the size of the spaces and the possibilities available!
Reach out to Virtually Staging Properties to Learn More!
If you are ready to sell your home and feel that virtual staging is right for you, reach out to Virtually Staging Properties online or call (877)949-9797. We are professional home stagers with a vast portfolio of beautiful virtual furnishings and decoration options. Our unmatched realism and fast turnaround mean that your home will be seen at its best online in no time!
"Love the photos! I will be your most devoted client!  Thank You!!!"
PAMELA BELLLAH, Managing Broker | John L. Scott Real Estate – Washington
"The photos were beautiful and certainly gave life to my vacant listing and within the first week after posting the photos and the listing online, we got 4 offers and a full price offer was accepted.  Thank You!"
ANNMARIE DEL FRANCO, Agent | Blackstone Properties of CT – Connecticut
"I was thrilled with our virtual photos cause we got an offer just 5 days after posting the photos online!"
PEGGY RYAN-LANIGAN, Realtor | Lyon Real Estate – California
"Our vacant property was listed for sale with no offers for over 90 days and after virtual staging of the photos took place, we instantly saw an increase in buyer traffic and got an offer in less than 4 weeks.  The buyers liked the photos which helped them with decorating ideas for the home."
JEANNIE THOMPSON, Agent | Long & Foster – Virginia
"The unfurnished townhome we had listed had been on the market for 4 months until we decided to engage in virtual staging.  I had the townhome professionally photographed and then had the photos virtually staged and they were so realistic.  We had a binding contract within 2 weeks after posting the virtual photos!"
ERIC BROOKS, Realtor | Wydler Brooks Real Estate – Virginia