Can I Choose the Style of My Home Staging?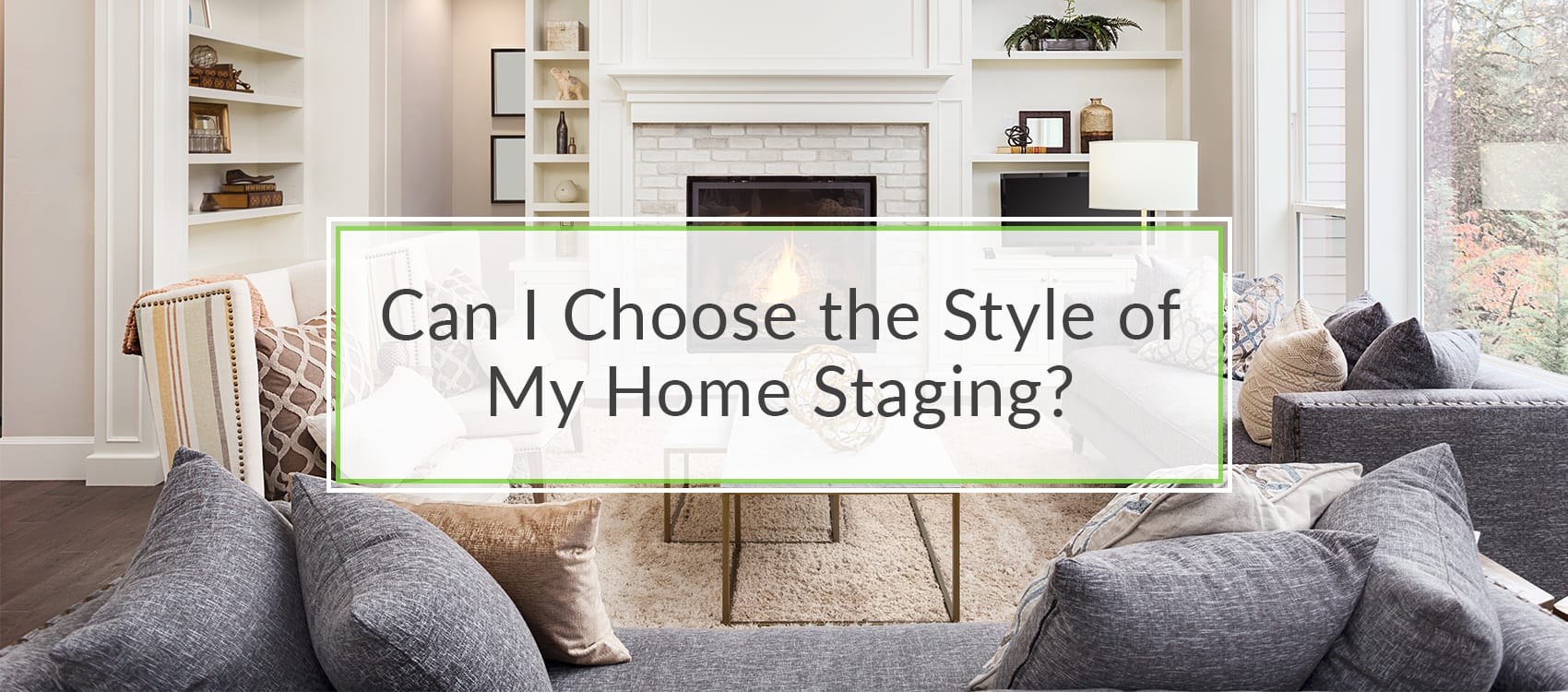 Getting ready to sell your home?  If you want your house sold quickly and get the maximum price for it (and who doesn't want that?), home staging is one of the best investments you can make!  Staged homes sell about 70 percent faster than vacant properties, and buyers are typically willing to pay more for a property that has been staged!
However, turning over your home to a professional staging company can be intimidating.  After all, that property is still yours and a reflection of who you are, and it's natural to want to have a say in decisions that will directly affect you.  This is especially true if you are still living in the home while staging it!  To help you be a part of the staging and home selling process, here are some tips to make staging a more pleasant experience for everyone involved!
Don't Take It Personally
Your home may be beautifully designed or set up perfectly for your family, but your staging company will most likely recommend you declutter and undecorate as much as possible.  They may recommend hiring a cleaning service or removing wallpaper or painting.  Don't take it personally!  Your staging company isn't trying to critique your decorating habits, they're trying to help you sell your home as quickly and for as much money as possible.
Highly personalized homes that include family pictures, personalized décor, and bins of toys can turn off buyers by preventing them from seeing themselves in the home.  While Fluffy and Fido may be an integral part of your family, a buyer seeing pet beds and smelling odors are not going to be inspired to get a pet of their own, they'll think of dander and cleaning costs.   Toys and family photos will reinforce the thought to buyers that it's someone else's home, blocking them from seeing it as their own.  However, depersonalizing the space allows buyers to see the beauty, scale, and function of each space while being neutral enough for them to create their own narrative.

Communication is Key
Be sure to speak with your selling agent and staging company about your current situation.  If you will be living in the home while it is staged, discuss your lifestyle.  Do you have children or pets?  Are there furnishings and personal items in the home that you absolutely cannot store away?
Communicate any needs or concerns before the staging process gets underway, and your staging company can work with you.  For example, they may have a vision of white furniture and rugs, but knowing that small children are in the home, you can work together to discuss a style that will work for you while also working for potential buyers.  Also, you can make specific requests even if you won't be living in the home.  If you are moving out of state, you may ask for not staging with live flowers or fresh fruit that would have to be changed out frequently.
Consider Virtual Staging
Virtual staging is a fantastic compromise for home sellers who want to choose their home staging style, even if the property is vacant.  You and your Realtor® can send in the photographs of the property and ask for certain styles to be used in the photographs.  Because you know your property best, you can make recommendations as you see fit, and look through gallery pictures and make notes requesting specific items be added to your photos.  By choosing a virtual staging solution, you can also review the photographs after they have included the furnishings and décor, and if you aren't 100% satisfied, changes can be made!
"We received 2 offers in less than a week and a half.  The property was listed with vacant photos for over 220 days on the market with no offers.  Many buyers passed on the house but after posting the virtual photos, they changed their minds and we definitely saw an increase in buyer traffic!"
TRISH BRADLEY, Agent | Rutledge Properties – Massachusettes
"Virtually Staging Properties offers a phenomenal service!  I have listings that have little to no furnishings and need to be brought to life and VSP does just that.  My clients love the product and my virtual photos get wonderful internet exposure.  I have sold every virtually staged home by VSP faster and will recommend the service to my Realtor colleagues.  Thank You!!"
IRINA BABB, Realtor | Re/Max Allegiance – Virginia
"The photos were beautiful and certainly gave life to my vacant listing and within the first week after posting the photos and the listing online, we got 4 offers and a full price offer was accepted.  Thank You!"
ANNMARIE DEL FRANCO, Agent | Blackstone Properties of CT – Connecticut
"I only post virtually staged photos by VSP for my vacant listings and it is an excellent service instead of having blank rooms for buyers to view online."
MARTHA MAY, Realtor | Koenig & Strey – Illinois
"Our vacant property was listed for sale with no offers for over 90 days and after virtual staging of the photos took place, we instantly saw an increase in buyer traffic and got an offer in less than 4 weeks.  The buyers liked the photos which helped them with decorating ideas for the home."
JEANNIE THOMPSON, Agent | Long & Foster – Virginia