How to Prepare Your Home for Virtual Staging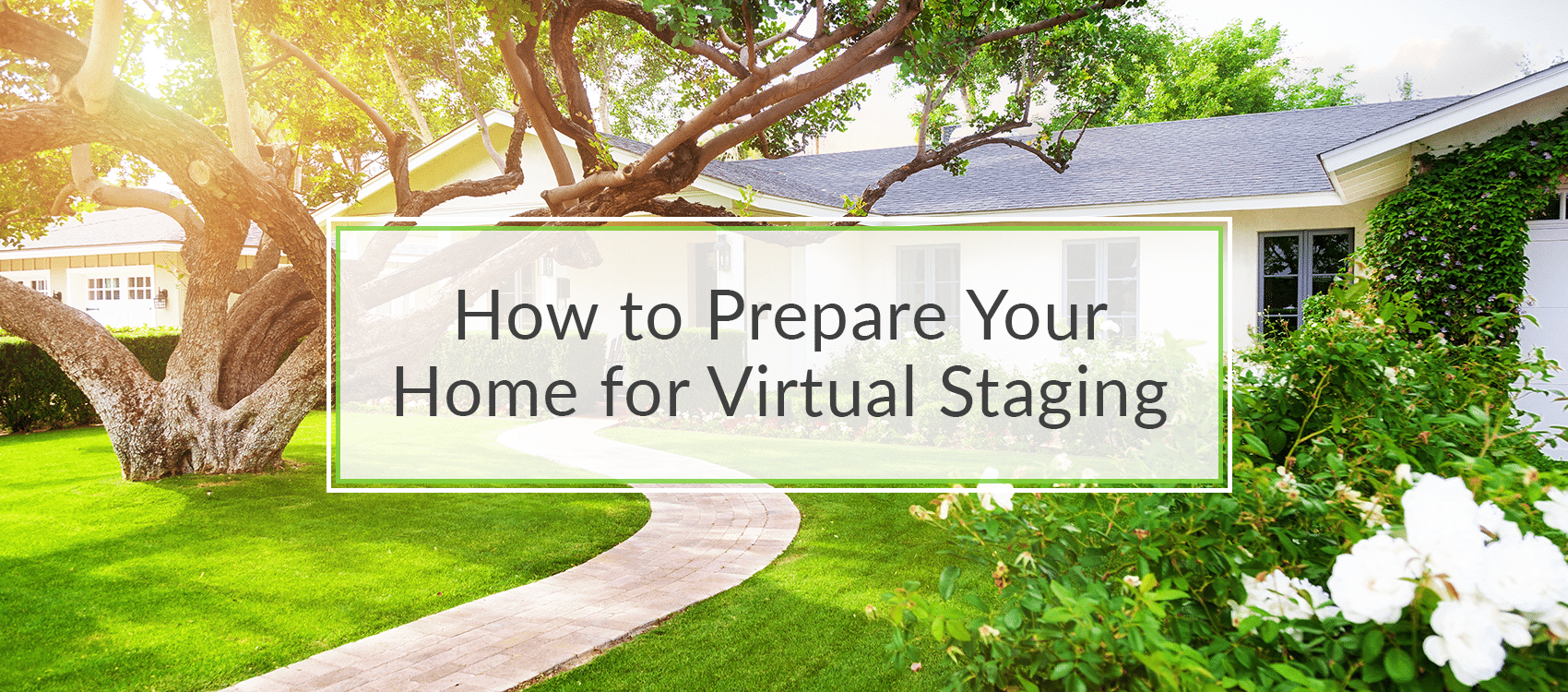 Staging a vacant property is one of the most effective ways to sell quickly and get a higher selling price. Data shows that a large percentage of staged homes sell within a couple of weeks of going on the market and sells at a higher price than comparable vacant homes. Virtual staging is a less expensive, highly effective way to show a home at its best for online photos, which will bring more prospective buyers to schedule a tour.
Before you virtually stage your home for its online pictures, here are some simple steps you can take to prepare your home for staging. These steps are very similar to preparing for physical staging
Consider the Buyer Demographic
Before you start making changes to the property, having a strategy in place will help you target your ideal buyer so you can sell the house faster. For example, if you have a two-bedroom, two-bathroom condo in a downtown urban area, consider your staging strategy for a younger professional. This would include modern furnishings and lean in to design trends a bit more.
On the other hand, if you are a four-bedroom home in the suburbs, plan your staging strategy for a family. Home and family-oriented artwork, separate adult spaces, and more youthfully-staged bedrooms will allow a family to see themselves in the home.
Make Needed Repairs
The next step is to go to the property and make a list of needed repairs. This should be done prior to putting the home on the market, no matter what, but especially before virtual staging photography is taken. Walk through the home with a buyer's perspective to see what may present negatively. Water stains on the ceiling, damages in the drywall or stained carpeting may still show up in your photos, causing buyers to move on to the next listing.
Create a Neutral Backdrop
Staging has many purposes from a buyer's perspective.  It provides a context and a definition of space that may be difficult to grasp in a vacant home. Staging also makes the property feel warm and comfortable, without being overly personalized, allowing buyers to envision themselves living in the space.
Providing a staging company with a neutral backdrop allows them to select the right virtual furnishings for the home without having to also factor in clashing colors.  Painting the rooms with warm, neutral colors, removing the carpet to replace it with wood flooring, and creating a timeless backdrop allows the virtual staging company to create compelling images.
Get Rid of the Clutter
Allow the professional staging company to create spaces that will appeal to the target buyer and remove as much from the home as possible.  While it is a given to eliminate the overly personalized belongings like knickknacks and family photographs, consider taking it one step further and removing extra furniture and themed décor.
Just like repairs and painting the home, this will not only help create stunning, virtually staged images, but the property itself will show better. Extra furnishings, books, toys, storage furniture – these all are house-hold specific items, and they may make an area seem smaller and more cluttered.  With less clutter and a thorough cleaning, the interior will look amazing with the right virtual staging.
Don't Neglect the Exterior
While most people think of the interior when staging a home, the exterior can benefit just as much from high-quality, virtually staged images.  From adding a conversation set and barbecue to show the potential of a patio, to adding greenery and a porch swing to brighten up a house that is on the market in the winter, staging the outside spaces is just as important as the inside.  Again, just like the interior, make sure you are creating a clean, repaired space so that the images created will give you the most bang for your buck!
"Our vacant property was listed for sale with no offers for over 90 days and after virtual staging of the photos took place, we instantly saw an increase in buyer traffic and got an offer in less than 4 weeks.  The buyers liked the photos which helped them with decorating ideas for the home."
JEANNIE THOMPSON, Agent | Long & Foster – Virginia
"We list all our vacant properties with virtually staged photos by VSP and we always get a contract within the first 2 -4 weeks after posting the listing along with the photos online.  Other agents comment on our virtual photos and we have referred numerous agents to you all because of the success we have had with your company! "
CYNDI OHRT, Realtor | Keller Williams Realty – Virginia
"Virtually Staging Properties offers a phenomenal service!  I have listings that have little to no furnishings and need to be brought to life and VSP does just that.  My clients love the product and my virtual photos get wonderful internet exposure.  I have sold every virtually staged home by VSP faster and will recommend the service to my Realtor colleagues.  Thank You!!"
IRINA BABB, Realtor | Re/Max Allegiance – Virginia
"After posting the virtually staged photos I saw an increase in showings and we got my vacant listing under contract in less than 14 days! "
PAUL HERRICK, Realtor | Keller Williams Realty – Massachusetts
"I only post virtually staged photos by VSP for my vacant listings and it is an excellent service instead of having blank rooms for buyers to view online."
MARTHA MAY, Realtor | Koenig & Strey – Illinois