Tips for Downsizing, Donating and Selling Your Junk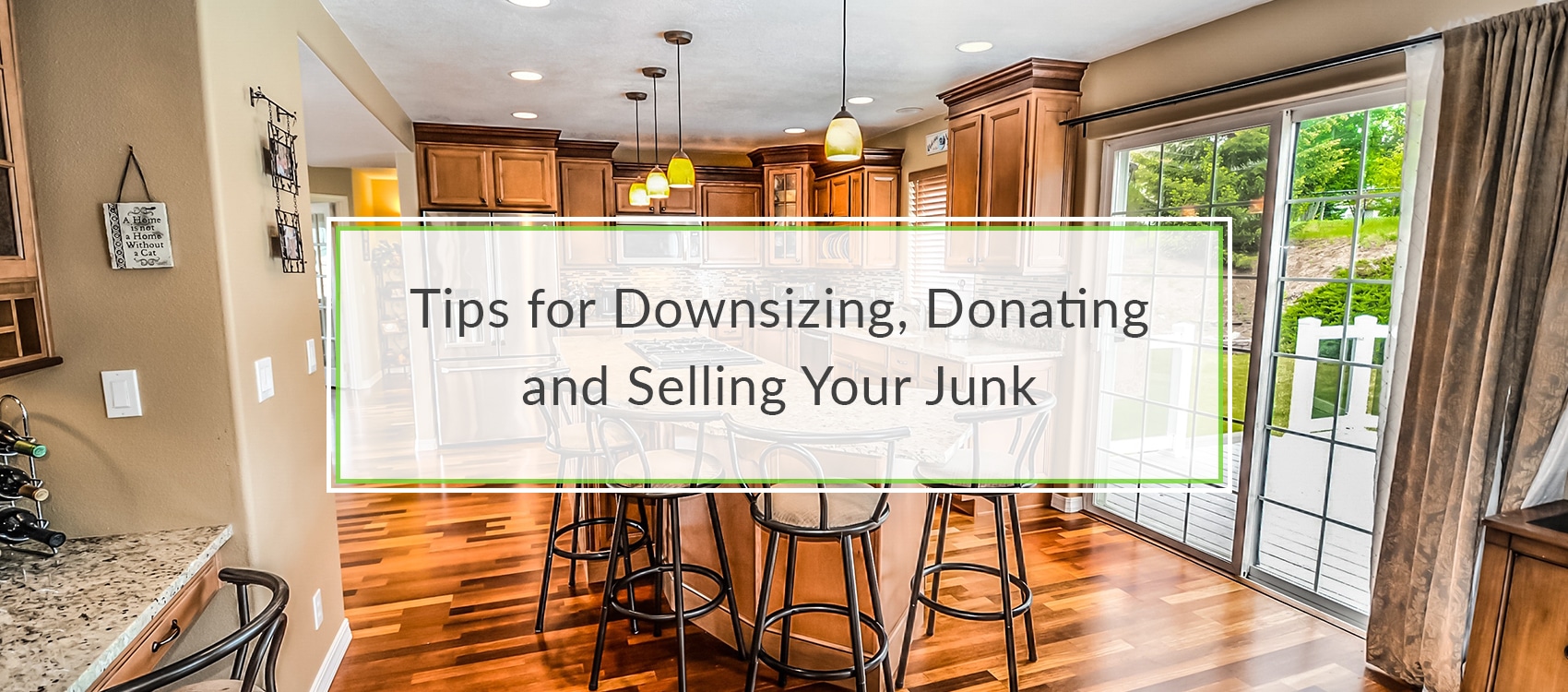 Whether you're ready to put your house on the market or you already have an offer in, it's time to pare down some of your stuff. Decluttering isn't as easy as tossing stuff in a box to drop off at a thrift store or holding a garage sale over the weekend.
Okay, for some of you, decluttering is that easy! If that's the case, maybe you can give us some tips about how to get rid of extra stuff before moving.
For the rest of you, here are our tips for paring down your stuff to make a more attractive staging or for a more efficient move!
Why You Should Declutter BEFORE Putting Your Home on the Market
The best time to start this process is before you decide to sell your home. A home free of excess furniture, junk, dusty knickknacks, and other stuff shows better. When closets and cabinets aren't crammed full to the point of bursting, potential buyers get a more accurate view of how much space there actually is. Plus, the less excess there is in the home, the larger, airier, and cleaner the house feels, and all these things are very important to potential buyers!
Sell Your Bigger Items for a Mindset Impact
Feeling overwhelmed at the idea of getting rid of stuff? Get a big reward by selling your bigger ticket items first by having a garage sale. Here are some things that you can advertise that will draw people in:
Baby gear you don't use
Baby clothes, toys
Exercise equipment
Furniture
Game systems
If you don't want a garage sale, these are items that sell on Craigslist or a local Facebook garage sale site without the stress of setting up a garage sale.
Not sure what you should part ways with? Ask yourself if you had to haul it up three flights of stairs, would it be worth it to keep? Chances are, the bulky, heavy China cabinet and the ugly couch in the spare room will find new homes!
Give Your Stuff New Life by Donating It
You've sold the bigger stuff on Craigslist, you don't have time to set up a garage sale for smaller items, what now? Instead of packing and moving your purses from college, books, and DVDs you don't want to revisit, and the Christmas table settings you've never used, let someone else enjoy them! Donate them to a church rummage sale, thrift store, or other local cause. Not only will you have the joy of not having to lug them around or store them, but you'll also get the joy of knowing someone else will love it!
Clothes
Holiday decorations
Toys
Kitchen items
Decorations
Unopened or unused craft items/kits
Anything that doesn't actively bring you pleasure or serve a purpose needs to go in the donation box along with anything you've not used in the last six months or most recent appropriate season (Didn't wear a certain coat last winter? Donate it!)
Buy the Big Box of Trash Bags
You don't realize how much trash there is in a house until it's time to pack it up! From headless Barbie dolls to flip-flops with broken straps, there's a lot of stuff that is literally unusable. So, where do you start?
If you're a bit overwhelmed, make a list of areas you need to clean out, (pantry, cabinets, linen closet, etc) and start small, like a medicine cabinet or a kitchen junk drawer. Set expired prescriptions aside to take to a pharmacy to destroy them, toss out old over-the-counter meds, old toothbrushes, and makeup that is long past its expiration. Seeing a clean, tidy space will spur you on to your next area.
Check Out Some Great Resources to Declutter!
If you try to get rid of stuff or donate items, but you just feel completely stuck, there are some amazing resources to check out to walk you through the process. We love The Life-Changing Magic of Tidying Up by Marie Kondo and The Joy of Less by Francine Jay. Both books bring a ton of clarity to cleaning up and clearing out.
Consider a Storage Facility
If you're not quite ready to live like minimalists, but you want your house to be clean and clutter-free to sell? Start packing up decorations, extra dishes, out-of-season clothes, extra furniture, and anything you don't absolutely have to have to survive and put it in a storage facility. With items already packed up, anything you decide not to keep can be sold or donated directly from there!
If you want your home to look attractive online, but you've already emptied it out, talk to Virtually Staging Properties! We can take your real estate listing photographs and digitally design and stage them to entice prospective home buyers to schedule a tour. Ready to learn more about how Virtually Staging Properties can lead to selling your home faster? Contact us today!
"Virtually Staging Properties offers a phenomenal service!  I have listings that have little to no furnishings and need to be brought to life and VSP does just that.  My clients love the product and my virtual photos get wonderful internet exposure.  I have sold every virtually staged home by VSP faster and will recommend the service to my Realtor colleagues.  Thank You!!"
IRINA BABB, Realtor | Re/Max Allegiance – Virginia
"We received 2 offers in less than a week and a half.  The property was listed with vacant photos for over 220 days on the market with no offers.  Many buyers passed on the house but after posting the virtual photos, they changed their minds and we definitely saw an increase in buyer traffic!"
TRISH BRADLEY, Agent | Rutledge Properties – Massachusettes
"My vacant property listing sat for about 3 weeks on the market and after posting the virtual photos by Virtually Staging Properties, I saw a 50% increase in buyer traffic and we got an offer just 1 day later.  The buyer's agent thought virtual staging was a great idea and was going to consider using it for their vacant listings."
TARIQ THOMAS, Agent | Thomas Holding Group – Pennsylvania
"Our vacant property was listed for sale with no offers for over 90 days and after virtual staging of the photos took place, we instantly saw an increase in buyer traffic and got an offer in less than 4 weeks.  The buyers liked the photos which helped them with decorating ideas for the home."
JEANNIE THOMPSON, Agent | Long & Foster – Virginia
"The unfurnished townhome we had listed had been on the market for 4 months until we decided to engage in virtual staging.  I had the townhome professionally photographed and then had the photos virtually staged and they were so realistic.  We had a binding contract within 2 weeks after posting the virtual photos!"
ERIC BROOKS, Realtor | Wydler Brooks Real Estate – Virginia