Ditch Renting Staging Furniture with Virtual Staging Technology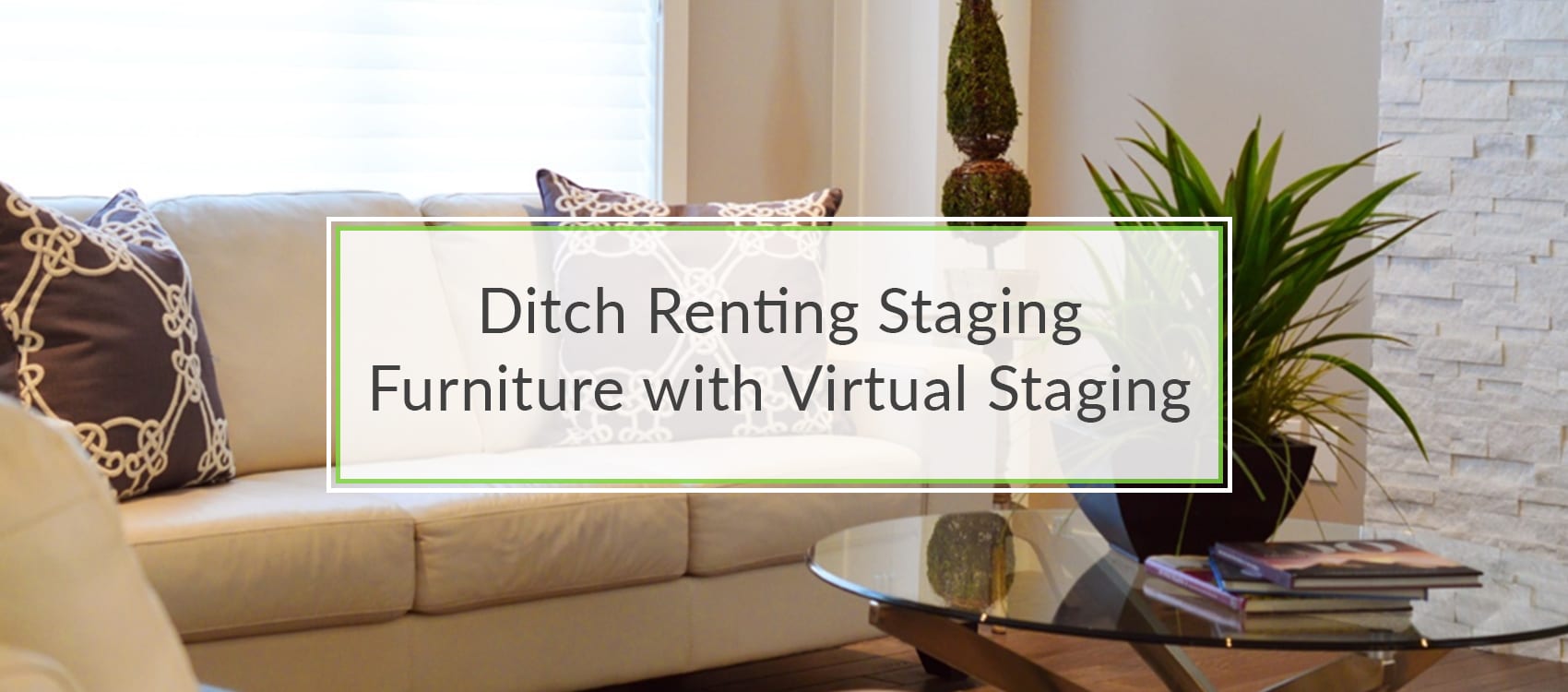 Ready to sell your property? Before you spend thousands of dollars to rent furniture to stage your vacant property, consider that virtual staging technology may be a better option for your home.
What IS Virtual Staging Technology?
Virtual staging technology is a fairly new technology that allows a property owner to send photographs of a vacant property to a designer who can digitally add furnishings and décor to the photographs. These photographs can be used for online listings, open house fliers, and other marketing tools to help the home sell more quickly.
What Are the Benefits to Virtual Staging for My Listing?
With over 90 percent of home buyers spending at least a portion of their home search online, having photographs that stand out is a necessity. Photos of vacant rooms don't allow a buyer to get a feel for the space, the layout of the home, and in older homes, it's easier to see flaws.
When a room has attractive furniture and décor in it, whether it's digital or physical, the buyer gets a much better feel for the size of the space, how each space can be used, and often gets a much better feel for the layout. Having photographs that show off the home to its best advantage allow it to stand out among a sea of listings with poor-quality pictures of empty rooms. And when a listing stands out, potential buyers schedule viewings!
The costs of virtual staging are significantly less than live staging. High-quality virtual staging can often be done for a few hundred dollars, while live staging can cost several thousands of dollars.  Plus, the turnaround for photographs is often very quick, which is beneficial when you're ready to get traffic on a listing in a short time.
Is Virtual Staging Technology Right for My Property?
Physical or live staging, when you or the agent rents furniture and décor for the property is an excellent tool to help a home sell faster and maximize the selling price. Most sellers see an excellent return on investment when they rent furniture for staging. However, that doesn't mean it's right for every home.
Live staging is perfect for:
Model homes that are used frequently for tours
Luxury homes and properties with large amounts of square footage
Buyers' markets where several open houses may be required to sell the property
On the other hand, virtual staging can be an excellent resource for nearly all properties. Because home staging is a relatively new art, live staging is not available in every market. With virtual staging, you can email your photos to a professional virtual staging company who can digitally add furnishings, then send them back to you, so your home can be anywhere in the world!
Also, the real estate market is seeing an enormous uptick in people buying properties sight unseen. In especially hot markets, buyers are putting bids on houses going solely off the pictures and description of the properties.  In these markets, spending thousands to physically stage the property isn't necessary.
Selecting a Virtual Staging Company
While there are plenty of options for virtual staging when you're looking for a reputable company, here are some things to keep in mind:
Do they have design or real estate experience that allows them to understand the market and how to stage a room to attract buyers?
Is their portfolio of furnishings, décor, and other home elements modern, stylish, and up to date, and is it large enough so that there are sufficient options for them to style the photographs?
Are their testimonials and social proof from reputable sources like Realtors and successful clients?
Contact Virtually Staging Properties and Forget Renting Staging Furniture
If you want beautiful photographs to elevate your property listing and entice buyers into scheduling viewings, Virtually Staging Properties is the leader in virtual staging technology. With our large portfolio and years of design experience, you can trust that each picture will look as crisp, professional, and attractive as a physically staged property. Contact us today for more information at (877)949-9797.
"The unfurnished townhome we had listed had been on the market for 4 months until we decided to engage in virtual staging.  I had the townhome professionally photographed and then had the photos virtually staged and they were so realistic.  We had a binding contract within 2 weeks after posting the virtual photos!"
ERIC BROOKS, Realtor | Wydler Brooks Real Estate – Virginia
"Our vacant property was listed for sale with no offers for over 90 days and after virtual staging of the photos took place, we instantly saw an increase in buyer traffic and got an offer in less than 4 weeks.  The buyers liked the photos which helped them with decorating ideas for the home."
JEANNIE THOMPSON, Agent | Long & Foster – Virginia
"My vacant property listing sat for about 3 weeks on the market and after posting the virtual photos by Virtually Staging Properties, I saw a 50% increase in buyer traffic and we got an offer just 1 day later.  The buyer's agent thought virtual staging was a great idea and was going to consider using it for their vacant listings."
TARIQ THOMAS, Agent | Thomas Holding Group – Pennsylvania
"You all did a phenomenal job on these virtual staging photos!  Really, I can't say enough how much I love them.  They are absolutely stunning and my clients are thrilled!"
SHEILA SALVITTI, Agent | Coldwell Banker Premier Properties – Pennsylvania
"We list all our vacant properties with virtually staged photos by VSP and we always get a contract within the first 2 -4 weeks after posting the listing along with the photos online.  Other agents comment on our virtual photos and we have referred numerous agents to you all because of the success we have had with your company! "
CYNDI OHRT, Realtor | Keller Williams Realty – Virginia