5 Simple Ways to Incorporate Summer into Home Staging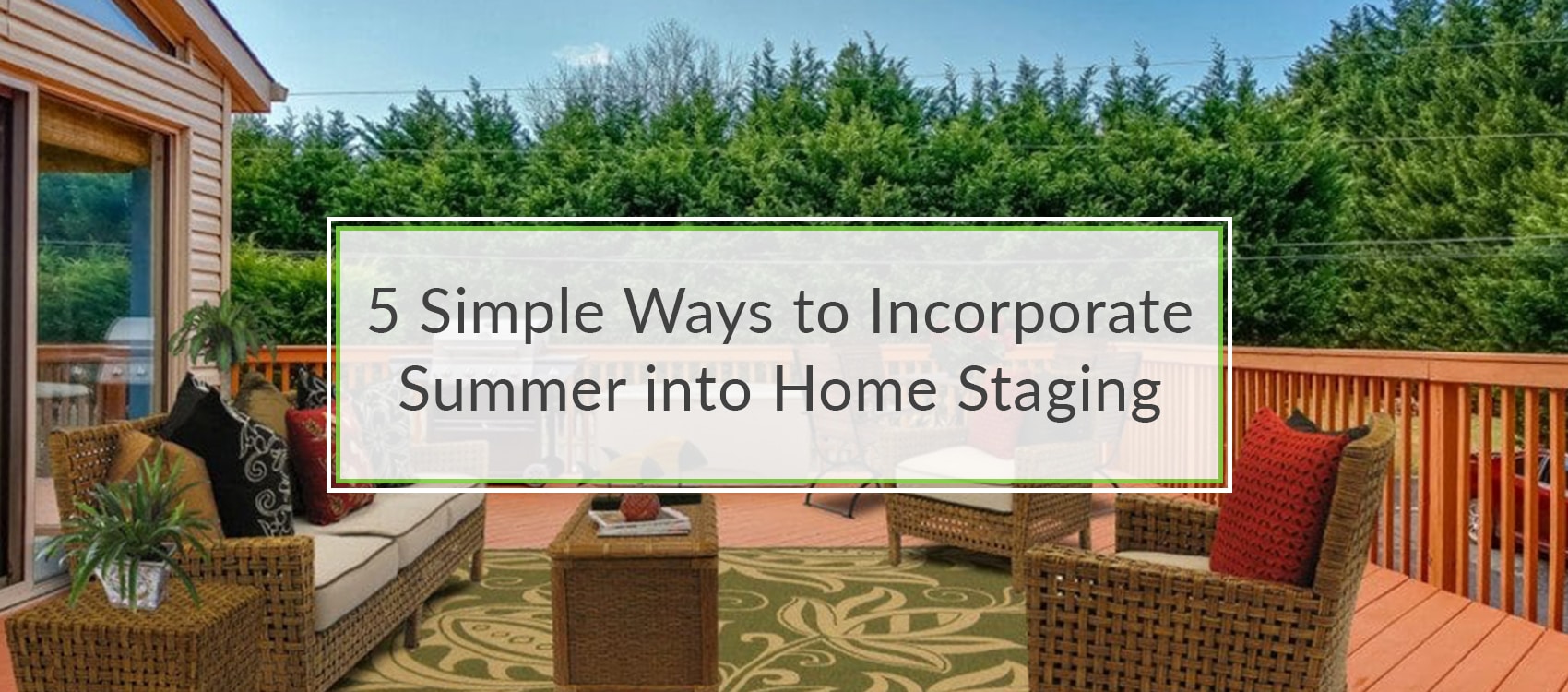 Selling a home in summer can be tricky, but that doesn't mean it's impossible. On one hand, the market does tend to be hotter in spring than in summer. On the other hand, there are still potential buyers seeking their dream home before school starts. The key to successfully selling your home in the summer is all about setting your home to its best advantage, and that's where home staging comes in!
Summer Home Staging Tips
Even if there are fewer buyers in summer, you can still set the stage for every potential buyer to fall in love with your home. Here are our favorite tips to incorporate summer into your home staging so you can sell your home fast!
Focus on Colorful Landscaping
Summer is the time for bright, vibrant colors, so now is a great time to add those colors to your curb appeal. Don't shy away from adding flowers to your landscaping, from planting around your mailbox to filling flower beds with vibrant blooms. Also, putting some extra labor into your yard by fertilizing, watering, and removing weeds to ensure a lush, green lawn will pay off big time!
If you don't have a yard space, potted plants near the door, hanging baskets, and window boxes filled with flowers can make just as much of a statement!
Create Clean, Colorful Curb Appeal
While you're focusing on your front lawn, don't neglect the porch and front door! Welcome potential buyers into your home with a clean freshly painted front door that stands out from the exterior paint. For example, if your home is white or cream, consider a peacock blue with new hardware and a kickplate. If your exterior is darker, think about yellow, white, or even fuschia!
Stage a small seating area, such as an attractive bench or porch swing and carry the door color over to the seating area by using outdoor cushions with the same color. And don't forget to add a wreath to the door and update your porch light for a fresh, well-maintained look!
Let the Light Indoors
Buyers love natural light any time of the year, but especially in summer when the light is so bright and golden. Let that light inside by removing heavy curtains and raising blinds and shades, but make sure you also wash windows inside and out and repair window screens to ensure you're showing your windows to best advantage. Rooms that are lacking natural light can be brightened up with recessed lighting and full-spectrum light bulbs.
Create Bright, Airy Spaces
Walk through your home and look at each room like a buyer would. Give each room a fresh coat of beautiful paint to brighten up spaces, and remove extra furniture and décor. Heavy, upholstered pieces can be lightened with linen or cotton slipcovers in light colors, while dark furniture can be brightened with vases of flowers and natural greenery. While it's great to keep a neutral palette when staging, add summery pops of color like yellow, tropical blue, or lilac throughout the space!
Make the Most of Outdoor Living
Back patio, balcony, or a pool – if you've got it, flaunt it! Summer is for enjoying the outdoors, and staging your outdoor spaces is one of the most beneficial ways to set your property apart. If you have a large deck or patio, allow potential buyers to envision outdoor parties with conversation sets and accessories to warm up the space like an outdoor rug, fire pit, or high-quality lighting (no tiki torches!). Make sure your pool is sparkling clean to inspire your potential buyers to want to take a dip or host a pool party. Even a small balcony can be dressed up with a quaint bistro set or a chair and side table, perfect for a cup of coffee and a book!
Consider Virtually Staging Properties!
Instead of worrying about buying or renting furnishings and décor to add summer to your property, let us create gorgeous, summer-ready photos for your listing! At Virtually Staging Properties, we have portfolios filled with furnishings and décor we can digitally add to your vacant property to create beautiful, professionally designed spaces that will entice potential buyers to want to tour your property in person! Contact us today at (877)949-9797 for more information!
"Our vacant property was listed for sale with no offers for over 90 days and after virtual staging of the photos took place, we instantly saw an increase in buyer traffic and got an offer in less than 4 weeks.  The buyers liked the photos which helped them with decorating ideas for the home."
JEANNIE THOMPSON, Agent | Long & Foster – Virginia
"You all did a phenomenal job on these virtual staging photos!  Really, I can't say enough how much I love them.  They are absolutely stunning and my clients are thrilled!"
SHEILA SALVITTI, Agent | Coldwell Banker Premier Properties – Pennsylvania
"I only post virtually staged photos by VSP for my vacant listings and it is an excellent service instead of having blank rooms for buyers to view online."
MARTHA MAY, Realtor | Koenig & Strey – Illinois
"Virtually Staging Properties offers a phenomenal service!  I have listings that have little to no furnishings and need to be brought to life and VSP does just that.  My clients love the product and my virtual photos get wonderful internet exposure.  I have sold every virtually staged home by VSP faster and will recommend the service to my Realtor colleagues.  Thank You!!"
IRINA BABB, Realtor | Re/Max Allegiance – Virginia
"Your virtual staging product is sensational! The efficiency condo I had listed was in a community of 60+ units for sale and had no offers.  After posting the 3 virtually staged photos of my unit, I got an offer within 5 days and beat out all the competing units listed in the same price range.  Thanks for a great job!"
SUE MILLER, Realtor | Re/Max of Naperville – Illinois