How Long Does it Take to Virtually Stage a Home?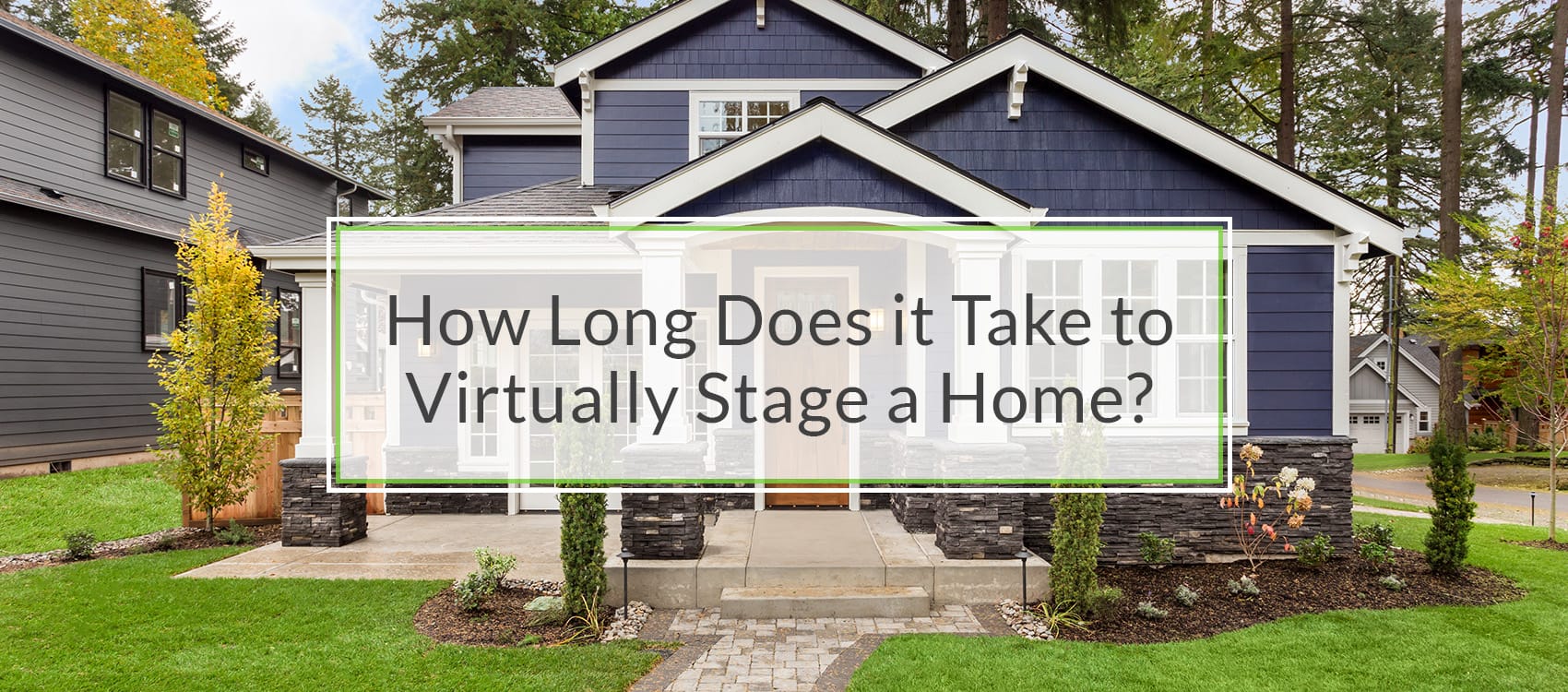 Why you Should Stage Your Home Before Selling
Virtual home staging provides a cost-effective solution to sellers as an alternative to physically staging a home. According to the National Association of Realtors, over 90% of home buyers are looking for their next home online and 85% of those buyers say it's the photos that are the most critical factor when deciding to view a home with their agent. Showcasing photographs of vacant rooms deters these buyers for several reasons. Vacant rooms appear smaller and don't offer the same warmth as professionally staged settings, and additionally, most buyers cannot envision a room's potential without the presence of staged furniture. This effect on buyers ultimately results in lower offers and adds to the time the home remains on the market – something that no real estate agent or seller wants!
The Downside of Physical Staging
Physically staging a home requires time and effort many sellers don't have. It also creates an additional cash expense that a large percentage of individuals are unable to afford after factoring in other costs associated with selling a home. To stage a home, an up-front consultation with a professional stager is required to begin the process. After a consultation, the seller can expect to pay an additional $2,000 – $3,000 for a moderate staging of a vacant home. In most cases, contracts with professional stagers require a three month-minimum regardless of the length of time it takes to sell the home.
Save Time and Money With Virtual Staging Properties
Virtually staging a room or home offers a unique alternative to the stresses most commonly associated with physical staging. With VSP, a user can take photos of specific rooms/areas and upload them to our portal with easy to navigate instructions. Our team of designers and stagers review each submission and if needed, work with the client to ensure the final product will meet our quality standards. Whether you are tech-savvy or a computer novice, VSP provides easy to follow directions and premium customer support throughout your entire experience. Should you wish to submit your photos in a different manner, VSP offers order submissions via fax.
Once our team has received a completed order along with your photos, we average approximately two to three business days to return your virtually staged photos. It is important to remember that our virtual staging service is focused on providing our clients with a high-quality product and we will not rush projects as we feel every order that comes in is of utmost importance and will be completed accordingly.
VSP delivers quality and convenience in a speedy yet cost-friendly manner. Visit our website today to learn more about our cutting-edge technology and find out why more and more real estate agents and sellers are continuing to choose Virtually Staging Properties to sell their homes faster.
"I only post virtually staged photos by VSP for my vacant listings and it is an excellent service instead of having blank rooms for buyers to view online."
MARTHA MAY, Realtor | Koenig & Strey – Illinois
"Our vacant property was listed for sale with no offers for over 90 days and after virtual staging of the photos took place, we instantly saw an increase in buyer traffic and got an offer in less than 4 weeks.  The buyers liked the photos which helped them with decorating ideas for the home."
JEANNIE THOMPSON, Agent | Long & Foster – Virginia
"After posting the virtually staged photos I saw an increase in showings and we got my vacant listing under contract in less than 14 days! "
PAUL HERRICK, Realtor | Keller Williams Realty – Massachusetts
"The unfurnished townhome we had listed had been on the market for 4 months until we decided to engage in virtual staging.  I had the townhome professionally photographed and then had the photos virtually staged and they were so realistic.  We had a binding contract within 2 weeks after posting the virtual photos!"
ERIC BROOKS, Realtor | Wydler Brooks Real Estate – Virginia
"You all did a phenomenal job on these virtual staging photos!  Really, I can't say enough how much I love them.  They are absolutely stunning and my clients are thrilled!"
SHEILA SALVITTI, Agent | Coldwell Banker Premier Properties – Pennsylvania