Home Staging Tips from Expert Staging Companies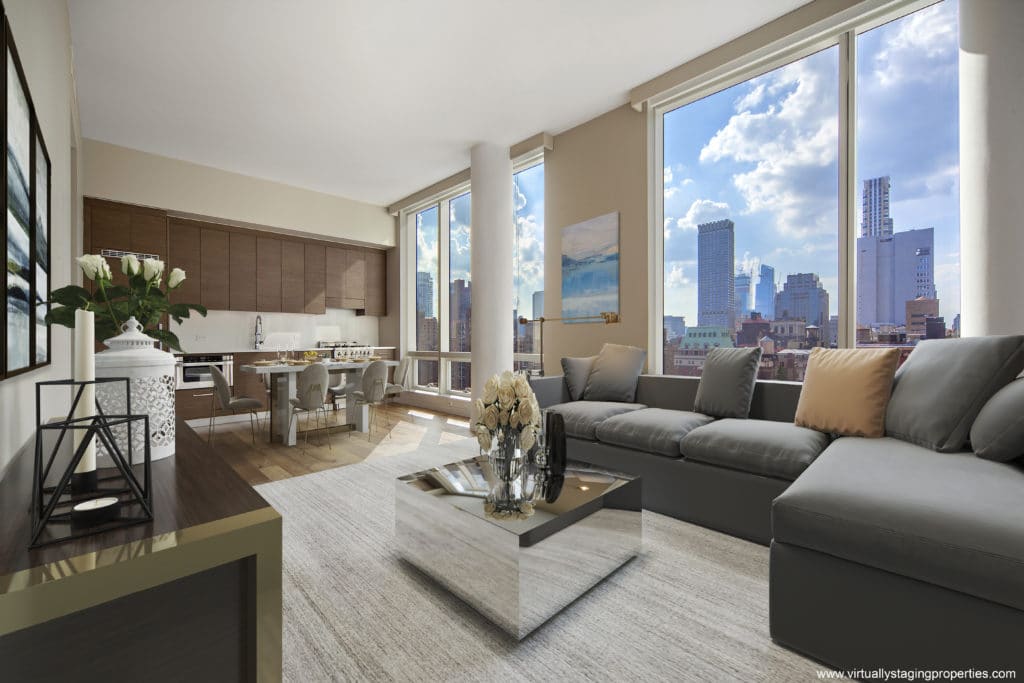 Homes Staging Tips for a Quick Sale
Selling your home can be overwhelming. There is so much to do and usually in a short amount of time. To make your life a little easier, we have created six home staging tips that will help you tackle your list and make your home sparkle so buyers will be promptly placing offers.
1. Declutter
One of the most crucial home staging tips that staging companies will tell you is to do is de-clutter your home. Remove as much as possible. Buyers cannot see the potential in a home with lots of clutter. When you are preparing to sell, take a good look at the things you have and decide what you want to go with you to your new home. Start sorting through your things- donating items you don't want to take to your new home, packing the things you do want to take, and trashing anything else. If you feel overwhelmed, take a look at the KonMari Method to help get you started.
2. Don't Forget Your Exterior
The exterior of the home in the first thing buyers see. It is the first photo on most listing websites. Encourage buyers with your home's curb appeal. Remove any debris from your yard like toys, lawn care equipment, broken accessories like a cracked birdbath, and weathered lawn furniture. Trim shrubs and trees that are low hanging around the home. Touch up any paint around the exterior. Wash the exterior windows and have the driveway pressure washed. Home staging companies will tell you that curb appeal is essential to get people inside your home.
3. Living Room
Another home staging tip is to spend resources staging your living room. The living room was ranked number one on the list of the most essential rooms for buyers. Staging your living room does not have to be complicated. We share three tips on staging your living room in our blog post  "Why Living Room Staging is Critical to Sell Your Home." Check it out for more ideas.
4. Get a Second Set of Eyes
This tip is brought to you by Krisztina Bell of No Vacancy Home Staging. When Krisztina was interviewed on Real Estate Radio Today, she gave this tip, and it is one that is probably over-looked the most. When she was interviewed for the "Sell Like a Pro" segment, she said "you always need a fresh set of eyes. Especially, sellers, they see where they live all the time." To make sure your home is current and ready for buyers, have someone (preferably a professional home stager or real estate agent) take a look at your home for you. They can give you guidance on where you need to make changes.
5. Hire a Professional
Consider hiring a professional home staging company. Professional home staging companies have the experience and the resources to make your home look incredible and sell fast. They have expertise in staging a home, and they know your market.
6. Consider Virtual Staging
Virtual home staging is a unique way to showcase your home on real estate marketing websites. The home staging company takes an empty home and stages it virtually. Check out our gallery to see what virtual home staging can create in your home. Take a look at our pricing guide to see how virtual home staging can save you time and money.
"Love the photos! I will be your most devoted client!  Thank You!!!"
PAMELA BELLLAH, Managing Broker | John L. Scott Real Estate – Washington
"The photos were beautiful and certainly gave life to my vacant listing and within the first week after posting the photos and the listing online, we got 4 offers and a full price offer was accepted.  Thank You!"
ANNMARIE DEL FRANCO, Agent | Blackstone Properties of CT – Connecticut
"We received 2 offers in less than a week and a half.  The property was listed with vacant photos for over 220 days on the market with no offers.  Many buyers passed on the house but after posting the virtual photos, they changed their minds and we definitely saw an increase in buyer traffic!"
TRISH BRADLEY, Agent | Rutledge Properties – Massachusettes
"We list all our vacant properties with virtually staged photos by VSP and we always get a contract within the first 2 -4 weeks after posting the listing along with the photos online.  Other agents comment on our virtual photos and we have referred numerous agents to you all because of the success we have had with your company! "
CYNDI OHRT, Realtor | Keller Williams Realty – Virginia
"Virtually Staging Properties offers a phenomenal service!  I have listings that have little to no furnishings and need to be brought to life and VSP does just that.  My clients love the product and my virtual photos get wonderful internet exposure.  I have sold every virtually staged home by VSP faster and will recommend the service to my Realtor colleagues.  Thank You!!"
IRINA BABB, Realtor | Re/Max Allegiance – Virginia