5 Easy DIY Holiday Decor Ideas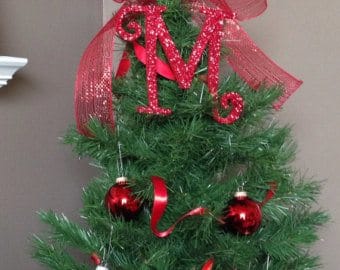 Easy DIY Hints of Comfort and Joy
With Christmas just around the corner, it is the season of last minute shopping, cooking, and decorating. Finding the right decorations for the last minute can be stressful, but it does not have to be. With a little dose of creativity and the ambition to bring on the holiday cheer, any room can easily be transformed into a holiday paradise. Read on for our picks of five easy last minute room decor ideas that the whole family will love.

1. Monogram. There is no better way to add personality and a personal touch to a room than putting a monogrammed personal stamp on the decor. One fun, festive way to incorporate a monogram is to use a large monogram letter for the top of the tree. Most craft and hobby retailers sell large wood or cardboard letters that can easily be customized to fit into any home decor plan.

2. Serve up Cheer. Use festive serving bowls as creative holiday displays. Fill a serving bowl with bells, garland, or holiday ornaments and nestle candles down into the display. Use various sizes of candles to add eye-catching appeal.

3. Hang it Up. A modest display of pitchers or vases is the perfect background for hanging holiday greetings. Print and cut out tags that spell out cheerful holiday greetings and hang them on pitchers or vases. For the fireplace, spell out a phrase like "Happy Holidays", or spread out words like "peace" and "joy".

4. Welcoming Wreaths. Wreaths are a great way to add holiday cheer to the exterior of a home. Use unconventional materials like yarn or burlap to add a colorful twist on the holiday wreath. Add a cluster of silver jingle bells that will merrily ring whenever the door is opened.
5. Garland. Garland is an easy way to add a touch of holiday cheer to any room. Drape garland over kitchen windows to add a subtle hint of the holiday spirit. Wrap garland around stair railings for a classic holiday look.
The holidays are the perfect time to spruce up the exterior and interior of your home. Use these five last minute room decor ideas to add holiday cheer to any room without a great deal of expense or work required. Tasteful holiday decorations provide a welcoming atmosphere especially when staging a home during the holidays.
"The unfurnished townhome we had listed had been on the market for 4 months until we decided to engage in virtual staging.  I had the townhome professionally photographed and then had the photos virtually staged and they were so realistic.  We had a binding contract within 2 weeks after posting the virtual photos!"
ERIC BROOKS, Realtor | Wydler Brooks Real Estate – Virginia
"The photos were beautiful and certainly gave life to my vacant listing and within the first week after posting the photos and the listing online, we got 4 offers and a full price offer was accepted.  Thank You!"
ANNMARIE DEL FRANCO, Agent | Blackstone Properties of CT – Connecticut
"Our vacant property was listed for sale with no offers for over 90 days and after virtual staging of the photos took place, we instantly saw an increase in buyer traffic and got an offer in less than 4 weeks.  The buyers liked the photos which helped them with decorating ideas for the home."
JEANNIE THOMPSON, Agent | Long & Foster – Virginia
"We list all our vacant properties with virtually staged photos by VSP and we always get a contract within the first 2 -4 weeks after posting the listing along with the photos online.  Other agents comment on our virtual photos and we have referred numerous agents to you all because of the success we have had with your company! "
CYNDI OHRT, Realtor | Keller Williams Realty – Virginia
"I only post virtually staged photos by VSP for my vacant listings and it is an excellent service instead of having blank rooms for buyers to view online."
MARTHA MAY, Realtor | Koenig & Strey – Illinois