What you Need to Know About Area Rugs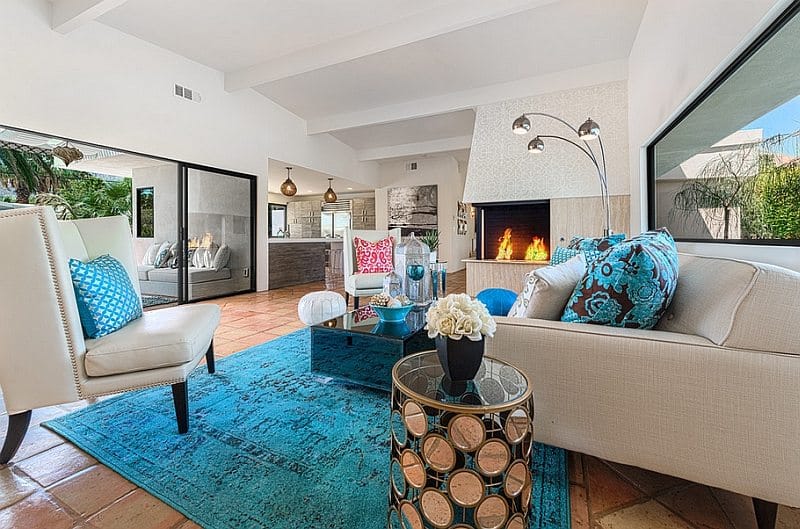 If you are staging or re-designing a room in your home, you are likely using an area rug to add charm, comfort, and flair. At Virtually Staging Properties, we stay abreast of current trends in design and renovation. In this post, we will share designer Vern Yip's advice for choosing and placing an area rug.
Measurement: Measure the width and length of your room. You want to aim for an area rug that is two to three feet smaller on each side than the room itself. If your room is awkwardly shaped, consider getting a carpet or rug cut to size and having the edges bound.
Design: Don't be afraid to choose an area rug with personality. Abstract art, vibrant colors, polka dots, floral prints, and geometric patterns are very on-trend.
Quality: Investing in a high-quality wool rug may seem extravagant, but high-quality rugs last longer and retain their colors better. If wool is outside your budget, look for synthetic or nylon blends. If you are looking to be environmentally friendly, consider choosing a rug made from jute or seagrass.
Placement: Always arrange an area rug so that at least the front legs of furniture are on top of the rug, and not adjacent. This avoids the appearance of the rug "floating" or being too small for the space.
Padding: No matter what size, shape, material, or design you choose, don't forget a carpet pad! Not only will they protect the floor underneath, they can prolong the life of your rug.
An area rug can make a huge difference in the overall feel of a room. For more design tips, visit our blog or contact us to get more information about our staging services. Call our office toll free at 877.949.9797.
"My vacant property listing sat for about 3 weeks on the market and after posting the virtual photos by Virtually Staging Properties, I saw a 50% increase in buyer traffic and we got an offer just 1 day later.  The buyer's agent thought virtual staging was a great idea and was going to consider using it for their vacant listings."
TARIQ THOMAS, Agent | Thomas Holding Group – Pennsylvania
"After posting the virtually staged photos I saw an increase in showings and we got my vacant listing under contract in less than 14 days! "
PAUL HERRICK, Realtor | Keller Williams Realty – Massachusetts
"I was thrilled with our virtual photos cause we got an offer just 5 days after posting the photos online!"
PEGGY RYAN-LANIGAN, Realtor | Lyon Real Estate – California
"The photos were beautiful and certainly gave life to my vacant listing and within the first week after posting the photos and the listing online, we got 4 offers and a full price offer was accepted.  Thank You!"
ANNMARIE DEL FRANCO, Agent | Blackstone Properties of CT – Connecticut
"Our vacant property was listed for sale with no offers for over 90 days and after virtual staging of the photos took place, we instantly saw an increase in buyer traffic and got an offer in less than 4 weeks.  The buyers liked the photos which helped them with decorating ideas for the home."
JEANNIE THOMPSON, Agent | Long & Foster – Virginia