Creative Basement Ideas That Are Outside the Box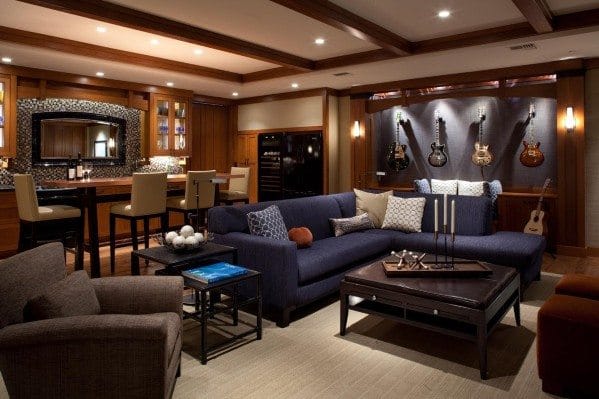 Basements are part of a home often neglected when redecorating or staging. They are also a huge asset. Stepping outside the box to create an inviting basement space can add value to the home, and can help prospective buyers really picture enjoying the space. Here are 5 creative basement ideas that are outside the box.
Movie Chic – If you want a space perfect for watching movies, forego the usual dark hues and leather. Instead, opt for oversize black-and-white portraits of famous stars to decorate the walls. Use neutral, plush furnishing accented by bright colors to open the space and express your creativity.
Make it Playful – If you have kids, make your basement a family-friendly space. Shelving, baskets/bins for organizing, and playful artwork can make a basement a perfect place for the whole family to create, relax, and use their imagination. It can also showcase a hodge-podge of family interests like music, crafts, or reading.
Groovy Appeal – For a more adult-friendly basement space, think plush velvet furnishings, upholstered ottomans, patterned carpets, and painted ceilings. Studio 54 meets retro chic is a perfect way to create your very own VIP room.
Classic Rock – For a basement space that is both "man cave" and movie room, install LED lighting, classic arcade games, and a large-screen TV. Instead of traditional artwork, display vinyl records or music memorabilia.
Work it Out – Another good option for an empty basement space is showcasing its potential as a fitness room. Adding mirrors to a stretch of wall and an assortment of workout gear to your basement makes good use of the space, and will inspire a healthy lifestyle.
Need more decorating or staging ideas? Check out our blog, or call Virtually Staging Properties at 877.949.9797.
Source: http://www.hgtv.com/remodel/interior-remodel/fun-basements-family-approved-pictures
"Our vacant property was listed for sale with no offers for over 90 days and after virtual staging of the photos took place, we instantly saw an increase in buyer traffic and got an offer in less than 4 weeks.  The buyers liked the photos which helped them with decorating ideas for the home."
JEANNIE THOMPSON, Agent | Long & Foster – Virginia
"Virtually Staging Properties offers a phenomenal service!  I have listings that have little to no furnishings and need to be brought to life and VSP does just that.  My clients love the product and my virtual photos get wonderful internet exposure.  I have sold every virtually staged home by VSP faster and will recommend the service to my Realtor colleagues.  Thank You!!"
IRINA BABB, Realtor | Re/Max Allegiance – Virginia
"I was thrilled with our virtual photos cause we got an offer just 5 days after posting the photos online!"
PEGGY RYAN-LANIGAN, Realtor | Lyon Real Estate – California
"After posting the virtually staged photos I saw an increase in showings and we got my vacant listing under contract in less than 14 days! "
PAUL HERRICK, Realtor | Keller Williams Realty – Massachusetts
"My vacant property listing sat for about 3 weeks on the market and after posting the virtual photos by Virtually Staging Properties, I saw a 50% increase in buyer traffic and we got an offer just 1 day later.  The buyer's agent thought virtual staging was a great idea and was going to consider using it for their vacant listings."
TARIQ THOMAS, Agent | Thomas Holding Group – Pennsylvania